It's time again for the New York Urban League Young Professionals (NYULYP) to host Rebirth! In 2006, Rebirth! made its debut as a signature event of the New York Urban League Young Professionals. This event was designed to honor the contributions made to society by African Americans. Rebirth! commemorates Harlem's most celebrated legacy -- The Harlem Renaissance.
This year, they will take you on a guided tour of contributions that Black Americans have made to the art of dance. The MC's will be standout NYC young professionals from the new BET reality series "Harlem Heights" Landon and Bridget.
Proceeds go towards NYULYP programming such as their 1st Annual College Book Scholarship, National Day of Service and Annual Backpack Drive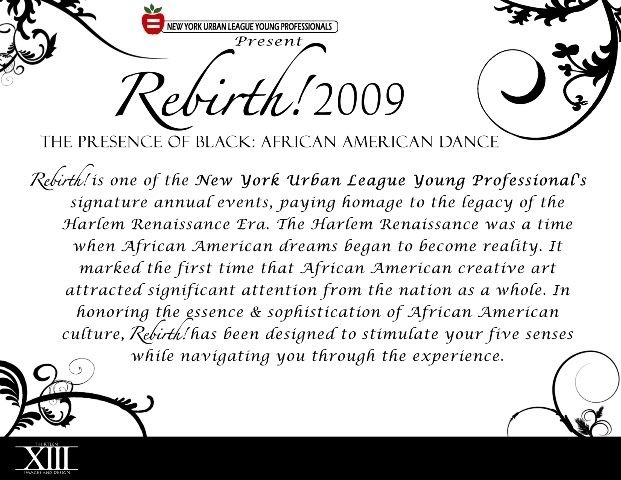 Take a look at REBIRTH over the years
here
. Buy tickets
here
.
Event is sponsored by Mercedes Benz and Moet Hennessy/Complimentary cocktails provided by Belvedere and 10 Cane/Appetizers by Spoonbread.
On the Web:
http://www.nyul.org/