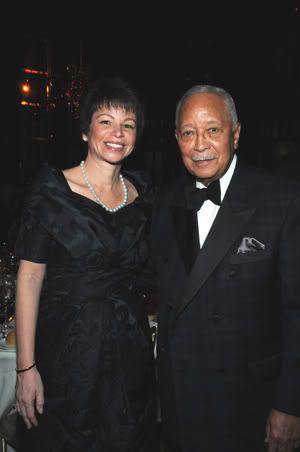 The National Park Foundation's African American Experience Fund (AAEF) held its 5th annual gala on April 15, 2009 at the Rainbow Room at Rockefeller Center in New York. The event celebrated the late Dr. John Hope Franklin and the legacy of African Americans in the National Parks.
More information about the event edited from
BlackTieMagazine
: The National Park Foundation's African American Experience Fund honored the life and legacy of historian, author, professor and environmentalist Dr. John Hope Franklin at its fifth annual fundraising gala, titled "Celebrating a Tradition of Excellence." Award winning journalist Gwen Ifill served as Mistress of Ceremonies, and acclaimed documentarian Ken Burns, director of the upcoming film National Parks: America's Best Idea -- made possible with support from the National Park Foundation -- delivered a special tribute to Dr. Franklin. The gala commemorated the critical role of African-Americans in the rich heritage of the National Parks in America.
The African American Experience Fund dedicated the evening to honor the significance of Dr. Franklin's legacy. A graduate of Fisk University, Dr. Franklin received both his M.A and Ph.D. degrees in history from Harvard University. His illustrious 60 year teaching career that began at Fisk University took him to prestigious institutions such as Howard University; and Brooklyn College; where he was the first person of color to chair a major department; and the University of Chicago and Duke University, where he was the James B. Duke Professor of History Emeritus.
More than 250 philanthropic, corporate and individual supporters of AAEF attended, including President Obama senior advisor Valerie Jarrett and former NY mayor David Dinkins (in photo). Guests enjoyed cocktails, dinner and entertainment at the cherished New York venue. Proceeds from the event will support youth education programs at national parks and historic sites that preserve and celebrate African-American history and culture.
For more information on the African American Experience Fund, visit
HERE
.
Photo: Barry Mason/BlackTieMagazine