Last month, I featured a series of posts on Philanthropy in Africa, highlighting people and organizations that benefit Africa. Since then, I've received many emails from people who are dedicating their lives to support the people of Africa. Most popular among them are campaigns to increase literacy, and helping African workers use their talents to make a living.
FACES OF INDEGO AFRICA: AN EVENING OF ART & SOCIAL ENTERPRISE
Indego Africa -- which stands for INdependence, DEvelopment, and GOvernance -- is an innovative social enterprise built upon the belief that women in Rwanda can lift themselves out of poverty. Indego Africa provides more than 200 Rwandan artisans with access to the global marketplace, enabling them to sell their vibrant handicrafts for a fair wage.
Indego Africa's handicrafts are currently on sale in dozens of retail stores in the U.S, including the Art Institute of Chicago and the Holocaust Museum in DC, and on its
WEBSTORE
. Indego Africa then applies 100% of profits to its long-term skills training programs in financial management, accounting, computer usage, and literacy, which are administered by Rwanda's top university students.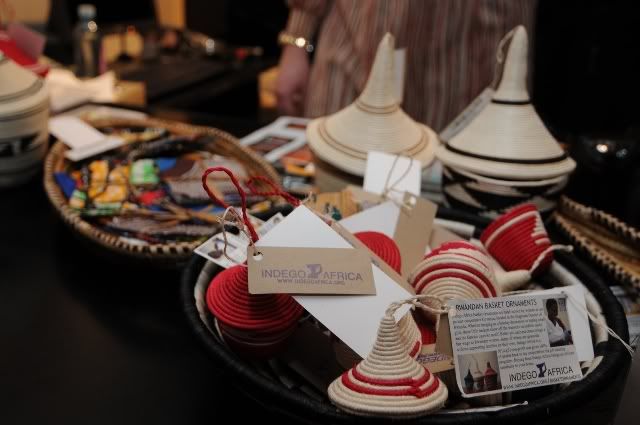 On Thursday, March 26th in NYC, Indego Africa and the Soufer Gallery held 'The Faces of Indego Africa,' a fundraiser celebrating art and social enterprise. The event featured a collection of photographs by Benjamin Stone, Senior Vice President and General Counsel for the organization, that captures the stories of women and children who benefit from Indego Africa and their innovative approach to defeating poverty.
The event raised nearly $6,000 for its training programs, and you can read more about the event at Indego Africa's blog
here
.
In the photo above is Benjamin Stone along with Matt Mitro, Founder and President. Visit the website at http://indegoafrica.org/ for more information and to purchase prints, and visit the webstore to purchase lovely baskets handmade in Rwanda here.
{Thanks Benjamin}