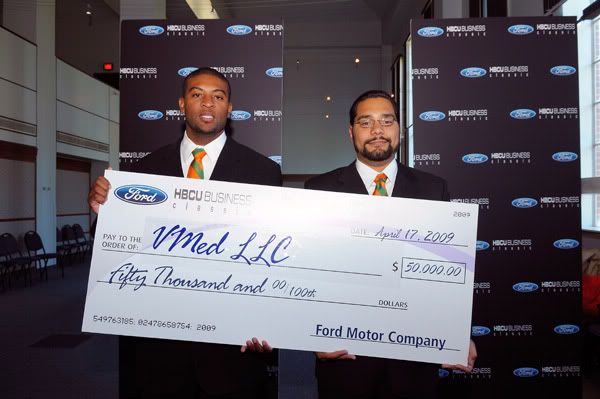 Spotted via FAMU website: Florida A&M University (FAMU) students Emerson Naylor (in photo above on right), School of Business and Industry (SBI), and Evan Anderson (on left), FAMU-FSU College of Engineering, won the 2009 Ford HBCU Business Classic Competition. As the grand prize winner, the student team won $35,000 in personal scholarships and $15,000 for FAMU.

"This is truly a great win given that Dr. Colin Benjamin, the team's advisor, passed in January and was not with them at the case competition," said Shawnta Friday-Stroud, interim dean of FAMU's SBI. "This win is a testament to the character, determination, and academic preparation of FAMU students."

This is FAMU's second time winning the business classic competition.

An independent panel of judges, made up of influential entrepreneurs from the African-American business community picked the winners at the National Association for Equal Opportunity in Higher Education (NAFEO) National Conference in Atlanta. The judges for the competition included George Fraser, chairman and CEO of FraserNet/author; Boris Kodjoe, actor/entrepreneur; Pat Lottier, CEO of Atlanta Tribune; Will Packer, Chairman and CEO of Rainforest Films/producer; and Randal Pinkett, Ph.D., chairman and CEO of BCT Partners/author. The event was hosted by Kevin Frazier, TV anchor and entertainment correspondent.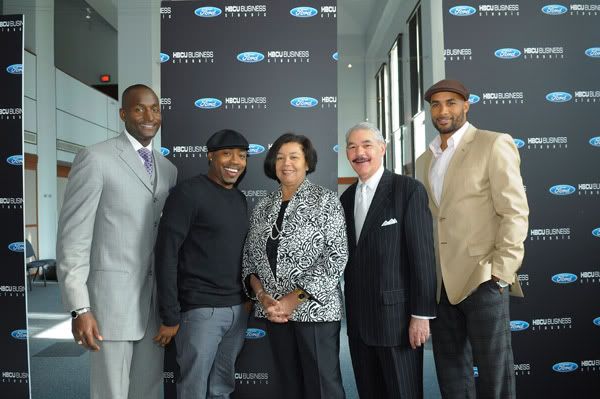 Author/CEO Dr Randal Pinkett, CEO/Film Producer Will Packer, Pat Lottier, author George Fraser and actor Boris Kodjoe attend the Ford Motor Company 2009 HBCU Business Classic Finals at Clark Atlanta University on April 17, 2009 in Atlanta, Georgia.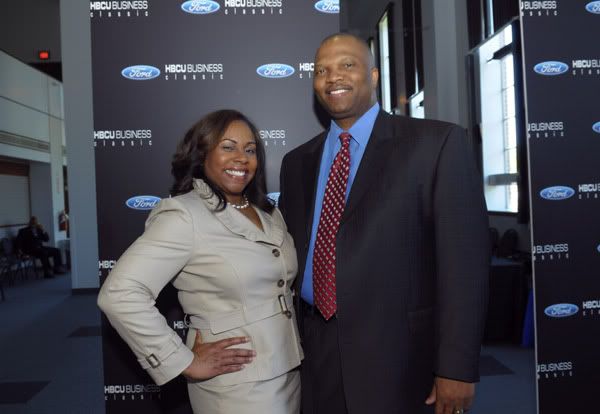 Ford Motor Company Multicultural marketing manager Crystal Worthem and VP of Global Quality Bennie Fowler

The Ford HBCU Business Classic launched in the fall of 2004 in response to Ford's recognition of a need in the black business community to educate and develop the next generation of entrepreneurs. The finalist competition will also premiere as a TV One special in May 2009.

Read full article here.

Photos: Robinson/Wireimage