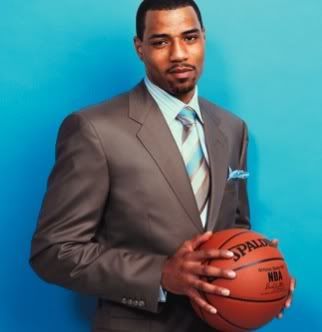 Kenyon Martin
, NBA player for the Denver Nuggets, and former NBA player
Jalen Rose
, have both established foundations at the GivingBack Fund, a national nonprofit organization that provides professional philanthropic management, consulting, and mentoring, to athletes, entertainers and others.
Kenyon (at left) established the
Kenyon Martin Foundation
in October 2008 that focuses on providing life-changing opportunities to underserved youth throughout the country, with an emphasis on assisting families without father figures in Denver, Dallas, and Cincinnati.
Grant proposals are now being accepted. The priorities of the foundation are to: (1) Assist community-based non-profit organizations that support financially disadvantaged families without father figures, and (2) Provide parenting and career guidance to teenagers who become parents. For more information, visit the website at
http://www.kenyonmartinfoundation.org/
2009 Jalen Rose Foundation Scholarship Program
Attention Detroit high school seniors: The foundation will award five college scholarships totaling $10,000 each to high school students residing in the city of Detroit, Michigan who will begin college in the summer or fall of 2009. For more information, visit
HERE
.
Photo: Kenyon Martin Foundation