Shadow Play Entertainment, Conversations Book Club, The Write Stuff Reality Show and The Common Ground Foundation Announce New Literacy Partnership
Via press release: The Common Ground Foundation was created by Hip Hop artist, actor and children's book author Lonnie Rashid Lynn, known as "Common." Common's social-conscience message is the cornerstone of the Foundation's vision and serves as an inspiration for equality, opportunity and hope among youth in underserved communities. The Foundation is committed to empowering youth in urban neighborhoods and providing life skills needed to achieve their dreams.
The Foundation's "Read for Change" program addresses the national problem of illiteracy among urban youth. In an effort to encourage and inspire youth to read and to use the power of their voice, the Common Ground Foundation has launched The Corner, a national online book club. This platform provides youth across the country with an opportunity to discuss current reading selections, while fostering the development of critical thinking skills. It was this program that got the attention of Conversations Book Club Founder Cyrus A. Webb.
"I am excited about the work that The Common Ground Foundation is doing for young people, especially when it come to encouraging reading and the arts," says Webb, 33. He contacted the foundation's Executive Director, Jodie Blum, and informed her of his desire to partner with Common Ground in promoting literacy. Webb, who is also the Creator and Host of The Write Stuff Reality Show, will be hosting literary meet and greets throughout the country beginning in May 2009 and wanted to make a donation towards the foundation during its stop in San Francisco, CA.
"As part of our effort to support the Common Ground Foundation's work, we are pleased to donate $1500 in books to be used as the organization sees fit," says Webb. "It is our hope that this will aid in the work they are doing as well as encourage other groups to support them in whatever way they can."
The public is invited to an event that will be held in San Francisco on Friday, May 29, 2009 at the San Francisco Marriott (55 Fourth St. San Francisco, CA 94103) from 6-9 p.m. Also present will be New York Times Bestselling author Scott Sigler, Derrick Hargrove and Nikki Shallwani from MTV's show 50 CENT: The Money & The Power, as well as other supporters of The Write Stuff Reality Show and literacy. Jodie Blum of the Common Ground Foundation will be present to receive the donation of $1500 in books as well as to be recognized for the work she is doing through the organization.
Blum shared, "We are honored to partner with The Write Stuff Reality Show in an effort to encourage and inspire youth and young adults to read and to use the power of their voice."
To see how you can assist the Common Ground Foundation, call 1.415.571.8975 or visit
http://www.commongroundfoundation.org/
. To find out more about The Write Stuff Reality Show and their associated events, visit
http://www.thewritestufftv.com/
or contact Herschel Dixon at 1.502.994.7852.
13-Year-Old CEO Gives Away Brand New Books in the Name of Literacy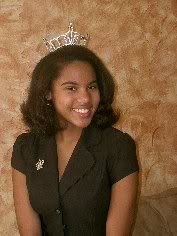 Adele Ann Taylor has founded her own company in the name of literacy. Adele's Literacy Library™ is a non-profit organization that instills and empowers that reading is not only fundamental, but the key to success and through reading ALL things are possible.
Adele's Literacy Library™ was founded on the simple idea... read and be empowered. From the creative bookmarks to the catchy phrases on her website, Adele is on her way to empowering the world with readers one book at a time.
Founded by Adele in December 2008, Adele's Literacy Library™ has already successfully given away hundreds of brand new books and bookmarks to schools, libraries and various organizations. Her goal is to give away millions of books to youth, elderly and disadvantaged regardless of where they live. Adele also wants to offer scholarships to high school graduates who want to pursue their educational dreams. Taylor currently hosts "Storytelling with Adele" where she attends schools and reads to classrooms. She is also in the progress of finalizing the details of a fundraiser with her school to promote literacy. Her plan is to offer this program to schools nationwide.
Adele shared, "I will be attending the Book Expo of America in a couple of months. It's my first trade show where I am representing my company!" This four day event is filled with opportunities for my business to flourish. I am so excited about this event and hope to make some long term business relationships. I 'm also hoping that my favorite authors are there too!"
Adele's Literacy Library™ supports itself by hosting book drives, fundraisers, and receiving donations. For more information on Adele's Literacy Library™ please visit
http://adelesliteracylibrary.org/
.
Sources: Press release, PRWeb