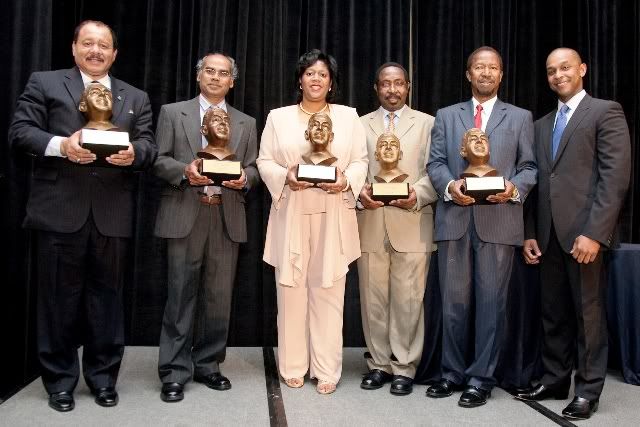 Via press release: The Thurgood Marshall College Fund (TMCF) concluded its 10th Annual Member Universities Professional Institute & Exhibition in New Orleans by honoring local community and civic leaders for their commitment to education and serving as positive role models for HBCU students.

In photo above, TMCF President and CEO Dwayne Ashley (right) congratulates honorees at the Opening Reception on March 15. From L to R: TMCF Board Member Arthur R. Thomas, Naidu V. Seetala, PhD, Professor of Physics, Grambling State University; Dr. Lisa Mims-Devezin, Associate Dean, College of Arts & Sciences at Southern University at New Orleans; Diola Bagayoko, PhD, Professor, Department of Physics, Southern University and A&M College; and Dr. Joseph Orban, Dean of Science & Liberal Arts and Biomedical Research Director, Southern University at Shreveport, all 2009 Distinguished Faculty Award recipients.

Honorees were presented with the limited edition Bronze bust of Justice Thurgood Marshall.

Attorney Arthur R. Thomas received the 2009 Outstanding Board Service Award for his four years of service to TMCF, and for championing a positive community service agenda for young men through his role as the 31st International President of Phi Beta Sigma Fraternity, Inc. He is managing partner of Arthur R. Thomas & Associates, LLC.


"Arthur is a passionate community activist who has devoted more than three decades to working tirelessly on behalf of education, legal, political and social issues affecting young people, seniors and the disadvantaged," said Dwayne Ashley, President and CEO of TMCF.
More than 500 attendees joined TMCF for the annual best practices conference. The largest event of its kind, the 3-day intensive, skill-building and networking conference serves as a bridge between corporate and government agencies with university presidents, education deans, administrators, faculty, alumni and more than 200 diverse students majoring in Sales, Sciences, Technology, Engineering and Mathematics fields.

Attendees share trends in higher education research and diversity recruitment that help develop innovative partnerships and enhance the learning environments at the 47 public Historically Black Colleges and Universities (HBCUs).

Next year's conference will be held in Nashville, Tennessee in March. For more information about TMCF and upcoming events, please visit the website at www.thurgoodmarshallfund.org.

Source: TMCF