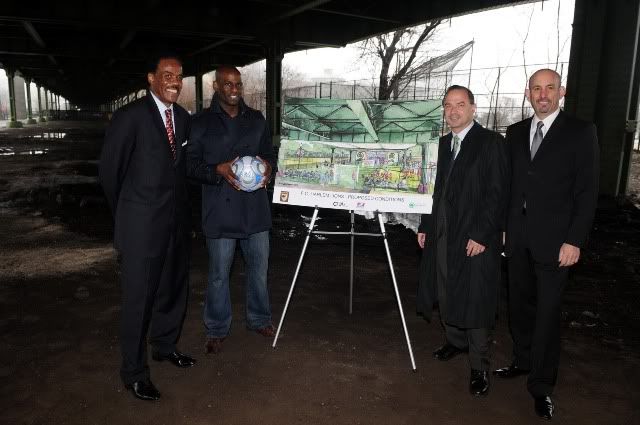 Ed Foster-Simeon, President of US Soccer Foundation; Irv Smalls, Executive Director, FC Harlem; Adrian Benepe, NYC Parks Commissioner; and Don Garber, Commissioner of Major League Soccer
"It will be a journey, but I am convinced that soccer will be a force of social change in urban neighborhoods."
-- Irv Smalls, Jr.
Via Press Release: "Passion and personality are the hallmarks of Irv Smalls, Jr., who arrived as the Executive Director of FC Harlem in 2007 and has since worked tirelessly to leverage his personal and professional networks for the elite soccer club's benefit. Under Smalls' leadership, FC Harlem has blossomed, attracting media attention, celebrity-hosted soccer clinics and praise from the local communities it serves.
Offering intramural and recreational leagues for both boys and girls as well as an elite boys travel team, the Harlem-based non-profit hopes to improve personal outcomes for youth in need by exposing them to the physical discipline and teamwork model of soccer.
The club is also gaining acclaim for guiding its gifted young players to national and international visibility. From arranging hard-to-get tryouts with professional teams to connecting players with agents who can expose them to both Major League Soccer (MLS) decision-makers and European teams coaches, FC Harlem is leaving an indelible mark on youth soccer.
A former Penn State Nittany Lions football champion himself, Smalls arrived at FC Harlem (formerly the Harlem Junior Soccer Association) with little fanfare, choosing instead to focus on player development and earning the confidence of the Harlem and South Bronx neighborhoods that most of the club's players call home. Family by family, Smalls galvanized the community and energized local youth recreation by making soccer a viable option."
In 2008, the organization hosted a star studded fundraising event that honored soccer star David Beckham and soccer legend Pele. The event raised $500,000 to build a first of its kind soccer field in Harlem's Riverside park. (See artist's rendering of the field in photo above.) The field is expected to be completed this fall.
"Smalls' vision for FC Harlem is to make it the first elite, inner city soccer academy in the United States. "Soccer is an accessible option for any child, but here in the United States the game developed a suburban Saturday morning ritual stereotype. It never caught on like basketball or American football," said Smalls. "It will be a journey, but I am convinced that soccer will be a force of social change in urban neighborhoods."
For more information or to make a donation, please visit
http://www.fcharlemlions.com/
.
Source: PRWeb