From my inbox: Frank Ski, chairman and founder of the Frank Ski Kids Foundation and host of Atlanta's number one morning show, the "Frank and Wanda Show" on WVEE (V103), recently celebrated his birthday surrounded by his family and close friends.
Hosted by his wife Tanya Ski and Warner Music Group's executive vice president Kevin Liles, the celeb-filled affair attracted nearly 500 people who arrived by shuttle to an exclusive residence in Atlanta's acclaimed Buckhead neighborhood. In photo at left is Frank Ski (r) with Kevin Liles.
Frank Ski, also known for the popular 90's hit 'Doo Doo Brown said he woke up that morning and said to himself 'however I spend this day, is how I'd like to live the rest of my life—giving back.'
So, without further ado, the celeb DJ and acclaimed philanthropist asked his guests to help fund his and his wife's mission to send 10 children to Florence, Italy for an art excursion later this year. His friends, as Ski expected, responded with abundant donations.
In 2008, Ski's foundation took 10 children to the Amazon for an ecological adventure and has sent 10 children to NASA's U.S. Space and Rocket Center Space Camp and Space Academy every year since 2002.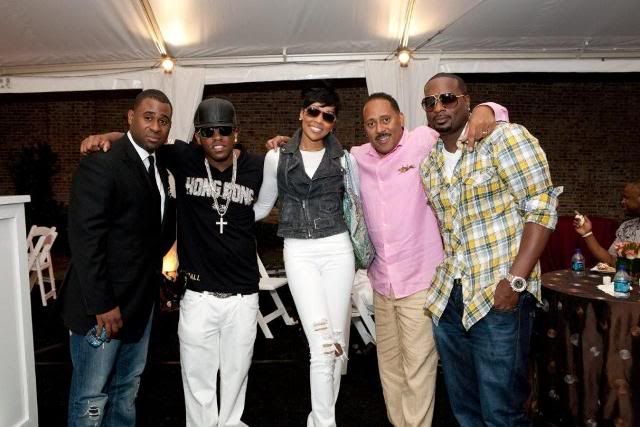 Ryan Glover, Rocko, R&B singer Monica, Frank Ski, DeVyne Stephens
For more information on the Frank Ski Foundation and the upcoming art excursion, visit the website at
http://www.frankskikids.org/
.
Photos: Cliff Robinson & Nihn Chau