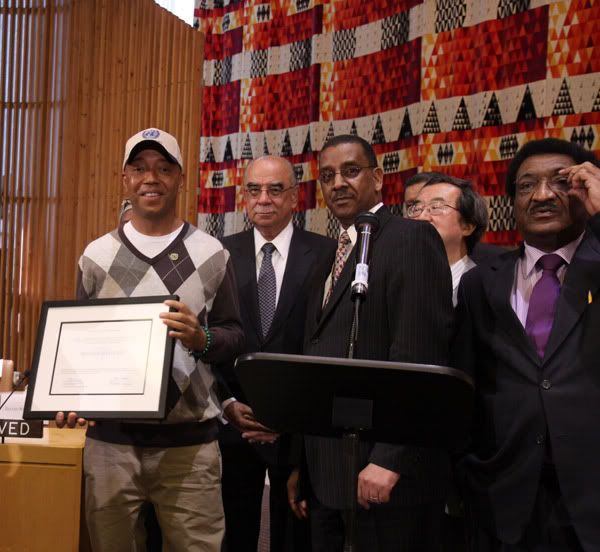 Hip hop pioneer
Russell Simmons
is confirmed as Goodwill Ambassador for the Permanent Memorial at the United Nations to honor the victims of slavery and the transatlantic slave trade, May 20, 2009. Russell shared, "My life's commitment is to be of service to the empowerment of young people living in struggle, who undoubtedly have been effected by this legacy. I look to the future with inspiration and faith as we work every day to bring freedom and equality to all young people around the world."
Source: MediaNewswire
CARON WHEELER
: Two-time Grammy Award-winning singer/songwriter, Caron Wheeler, appeared in Times Square on Saturday, May 2, 2009, for the 2009 EIF REVLON Run/Walk for Women, and then later performed two of her legendary Soul II Soul hits in Central Park's East Meadow.
The event included an all-star lineup, including Jimmy Fallon, this year's Run/Walk host, who was joined by REVLON Brand Ambassadors Jennifer Connelly and Jessica Alba, and a special performance by Ciara. This year marks twenty years since Caron's voice first caught collective and international attention with Keep on Movin' and Back to Life -- two of her most popular, signature songs that are still global favorites that can be heard in clubs and on the radio everyday around the world.
Caron performed at the Congressional Black Caucus Inauguration Ball on Monday, January 20, 2009 in Washington, DC. She is involved with a number of international initiatives, causes and charities that have personal and endearing meaning. Caron continues to perform with a global perspective to effectuate change. Her words continue to serve as a message of hope and encouragement for many. Caron's new music releases and anniversary release with Soul II Soul are forthcoming later this summer. Upcoming appearances include the Capital Jazz Festival in the Washington, D.C. area on June 6, and International Youth Day at the United Nations in NY on August 12, 2009. Caron is available for guest appearances, performance and venue bookings, event hosting, community affairs outreach and seminars. Contact pumpny[at]aol.com.
Source: P.U.M.P. Management
KANYE WEST FOUNDATION ANNOUNCES 2ND STAY IN SCHOOL BENEFIT CONCERT
Via Press Release: The Kanye West Foundation, founded in 2007 by the late Dr. Donda West, was established to help combat the severe dropout problem plaguing America's communities. It is through the collaboration of community and corporate partnerships that the 2nd "Stay in School" Benefit Concert, taking place at the historic Chicago Theatre on Thursday, June 11th, was born. This is the first major event for the Kanye West Foundation since the 2007 passing of its founder Dr. Donda West, the mother of Kanye West. It is also the first concert Kanye has performed in the city of Chicago in over a year. The concert will be taped by Fuse, the national music network, and will air later this summer.
Partners include Chicago Public Schools and S.H.O.W. (Students Helping Our World).
Benefit concert tickets go on sale Thursday, May 21st. Tickets start at $49.50 to $500 for the VIP Reception and can be purchased at Ticketmaster.
See previous post
here
for highlights from the foundation's first fundraiser.
Read posts on the drop out crisis
HERE
.