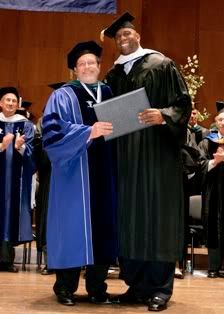 "This is the best day of my life—finally I can call myself Dr. J."
An Honorary Doctor of Humane Letters degree was conferred upon Earvin "Magic" Johnson, Chairman and Chief Executive Officer, Magic Johnson Enterprises by Mount Sinai School of Medicine in New York, May 15, 2009
Mr. Johnson, who also delivered the commencement address, was honored for his contributions to underserved communities, including those served by Mount Sinai. His tireless efforts with the Magic Johnson Foundation continue to generate support, education and awareness for HIV/AIDS among vulnerable populations. Mr. Johnson thanked Mount Sinai for the honor, and noted "This is the best day of my life—the day I become Dr. J."
In his address, Mr. Johnson challenged the Class of 2009 to continue to work hard and maintain their sense of discipline as they begin their careers.
"Winners understand what they have to do to win," he said. "When July 1 hits [the day medical graduates begin their residencies], I want you to be the first one at the hospital or clinic and the last one to leave. You are all winners. I wouldn't mind being on the operating table and knowing that one of you are the doctors."
Also honored with a Doctor of Humane Letters degree were Michael J. Fox, distinguished actor and founder of The Michael J. Fox Foundation for Parkinson's Research, and Anthony J. Martell, Founder and Chairman of the T.J. Martell Foundation for Leukemia, Cancer and AIDS Research.
Source and photo: Rubenstein Associates