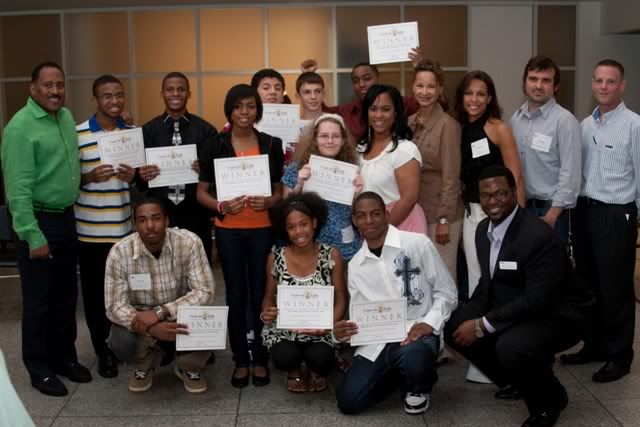 Ten Talented Students Will Embark Upon The Artistic Trip Of A Lifetime
In photo: Frank Ski, Christopher Johnson, Reginald Jackson, Olivia Burns, Salvador Teo, Anthony Martinelli, Rachel Pettit, Torrey Thomas, Tanya Ski, Renate Dugans (Judge), Ruth Karunga (Judge), Paul Huggett (Judge), and Brett Cavalli (Judge)
Via 360 Media Press Release: ATLANTA – Drumroll please! This week at the High Museum of Art, the winners of the inaugural Frank Ski Kids Foundation International Art Excursion to Florence, Italy were chosen. Twenty student finalists participated in one last competition to determine the ten lucky winners of a trip any artist would be truly envious of. On his top rated V103 morning show, radio host and Foundation Chairman
Frank Ski
announced the names of the artistic ten who will jet-set to the world's art mecca this July.
The students were subjected to an impromptu drawing competition based on a surprise theme, being judged on their creations in addition to their landscape drawings that landed them as finalists. And on July 22, these ten Georgia students will go on an all-expense paid journey to the city known as the "cradle of the Renaissance," a city unparalleled in world-renowned art and culture. The winners are:
Kaylon Baker / Luella High School, Olivia Burns / Glenn C. Jones Middle School, Dara Carter / Sandy Creek High School, Reginald Jackson Jr. / Carver School of Arts, Christopher Johnson / Stewart High School, Anthony Martinelli / Our Lady of Mercy Catholic H.S., Rachel Pettit / Trickum Middle School, Salvador Teo / Redan Middle School, Torrey Thomas / Mundy's Mill High School, and Dwayne Walker / South Gwinnett High School.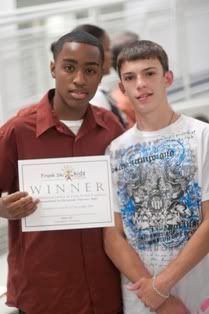 Tanya and Frank Ski; Contest winners
Florence houses Renaissance greats such as Leonardo Da Vinci, Michelangelo Buonarroti and Raphael Sanzio. While on their excursion, the winners will tour the city with a professional artist and guide, tour Pisa to see the Leaning Tower, draw in a city location under the guide of the art professional, take a hands on cooking class, engage in landscape drawing after a tour of the Tuscan country side and much more!
Frank Ski and his wife Tanya, Frank Ski Foundation President, will be accompanying the ten on the once-in-a-lifetime trip.
The Frank Ski Kids Foundation's International Art Excursion: Florence, Italy is the latest in a number of educational excursions developed by the foundation to help sharpen young minds and give them the tools to develop and explore areas of interest, including science and the arts. The Foundation's Planet Green initiative sent a group of school children to the Amazon in 2008 and the Charles Darwin Research Station in the Galapagos Islands in 2007.
Ski has high hopes for what the Italian Excursion winners will learn: "Today's schools are cutting back on art programs and the initiatives that would help foster young artists. With the International Art Excursion to Florence, Italy, we are hoping to give them an experience that will enable the young artists to really flourish in their passion and inspire them to pursue their artistic dreams."
Sponsors of the 2009 Frank Ski Kids Foundation International Art Excursion Florence, Italy include: BBDO, Carrabba's Italian Grill, Nike Store Lenox, State Farm Insurance and High Museum of Art.
For more details and updates regarding the Frank Ski Kids Foundation International Art Excursion Florence, Italy trip, visit
www.frankskikids.org
.
Photo Credit: Cliff Robinson