National LFA spokesperson Mercedes Yvette, honoree Dr. Sanjay Gupta, and Soledad O'Brien
The Lupus Foundation of America (LFA) held its 6th annual awards dinner, the Butterfly Gala, on May 12 at the Mandarian Oriental Hotel in Washington, D.C. Nearly 500 guests (including me!) at the event celebrated and honored survivors, advocates and champions of lupus research and awareness. The evening was full of inspiring stories from those living with the disease, such as
Mercedes Yvette
, 2004 runner up on America's Next Top Model. While on the show, she shared to a national television audience that she was living with lupus and since then, Yvette has been a national spokesperson for the foundation.
Yvette, along with Kathy Crosby of the Ad Council, presented the foundation's new public awareness campaign launched on March 31. The three year ad campaign is directed towards women most at risk for developing the autoimmune disease – young women of childbearing age with a special focus on minority women, particularly African American, Latino, Asian and Native Americans.
Mercedes Yvette was joined by fellow models and national lupus spokespersons
Tomiko Fraser Hines
(l) and Kelly Jean Drury (r). Tomiko, brand ambassador for Maybelline New York, is a member of the LFA Board of Directors and shared with the audience that her sister, Shneequa, sadly passed away in March from a severe case of lupus.
Soledad O'Brien, CNN anchor and special correspondent, served as the master of ceremonies for the gala, that honored a group of distinguished honorees: Dr. Sanjay Gupta, Chief Medical Correspondent for CNN, received the Leadership in National Health Education Award; Representative James P. Moran (D-VA) received the Leadership in Lupus Research Award; Roger M. Perlmutter, M.D., Ph.D. of Amgen, Inc., received the Cooper Family Foundation Leadership Award; and the Ad Council received a special recognition for creating the new awareness campaign.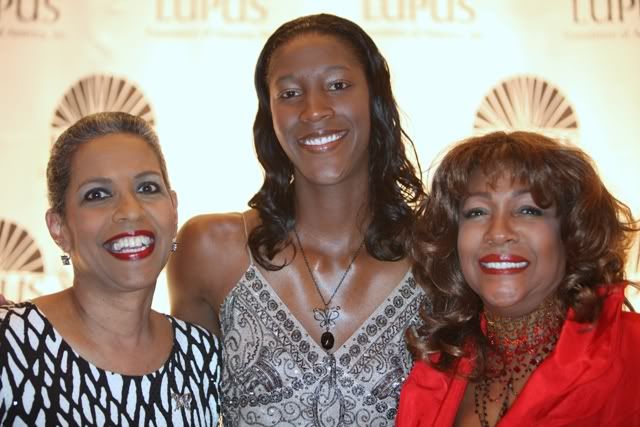 Providing leadership to the Lupus Foundation is Karen B. Evans (on left), Chair of the LFA Board of Directors. Evans is also the Executive Director of the Will and Jada Smith Family Foundation, which provides funds to non profit organizations in Baltimore, Philadelphia and Los Angeles. Also in attendance at the gala was Michelle Snow (center), WNBA player for the Atlanta Dream. Snow watched her mother suffer from lupus for 13 years before succumbing from the disease. She is honoring her mother's legacy by leading the foundation's new initiative, "Champions of Hope," that will engage athletes and celebrities to help raise awareness of lupus throughout the country. With Evans and Snow is the founding member of the world famous Supremes, Mary Wilson. She gave an arousing 30 minute performance, entering from the back of the ballroom and working her way to the front!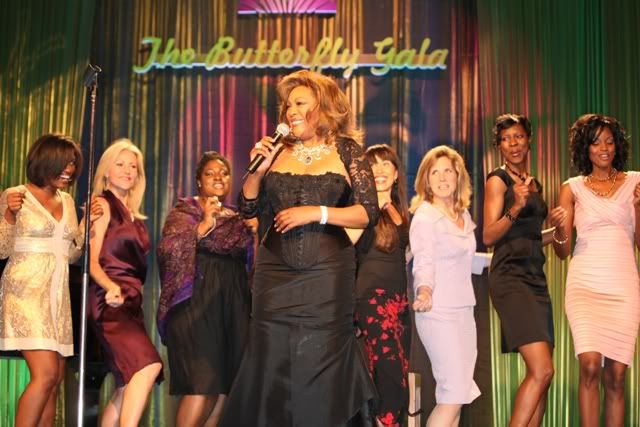 Wilson closed out the evening by performing a medley of songs that had the crowd to their feet-even inviting guests onstage to join her. Upon leaving, all guests were given a copy of Dr. Gupta's NY Times bestselling book, Chasing Life.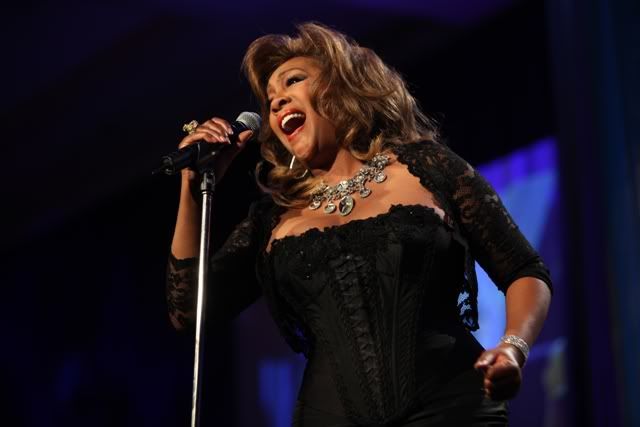 The event raised funds to support research, education program and patient services. The LFA is working to find the causes of and cure for lupus which hasn't had a new drug in more than 50 years. For more information on the lupus public service campaign, visit http://www.couldihavelupus.gov/ that features information about symptoms, diagnosis and treatment, links to resources, and stories from women who are living with lupus.

Photos courtesy of the Lupus Foundation
Special thanks to Maggie Maloney for the invite!