Victoria Rowell, Mrs. Christine Johnson, Honoree, The Mother of The Year Award, (Earvin "Magic" Johnson's mother) and Mrs. Cookie Johnson
Via Press Release: New York Times Best-selling author, actress, philanthropist, and humanitarian Victoria Rowell kicked off Foster Care Month with an inaugural writer's workshop for foster children at the Crowne Plaza Hotel Los Angeles Harbor on May 2, 2009, followed by the Admiral's High Tea at Sea, May 3, 2009 on board the beautiful Mariner of Seas cruise ship of Royal Caribbean International. The events raised public awareness and funds to benefit the Rowell Foster Care Positive Plan (RFCPP).
The workshop, underwritten by Casey Family Services, included a star-studded array of panelists who worked with approximately 50 foster youth on how to express their feelings, thoughts, and emotions through the written word. Panelists included American Idol's Rickey Minor, Isaiah Washington, Rolanda Watts, BET's Charlie Jordan, ABC News' Stephanie Wash, Myrna Colley-Lee, Victoria Christopher Murray, and Marva Allen. Participants had the opportunity to work one on one with the panelists.
"It was an amazing gift," offers Minor. "One kid wouldn't even talk at first and now is writing like crazy!" Well received by all, the event was capped off by awards for innovative and expressive writing including the August Wilson Award, Langston Hughes Award, and the Terry McMillan Award. Jordan Brand also provided well-stocked travel bags and certificates for new athletic shoes for exemplary participation in writing.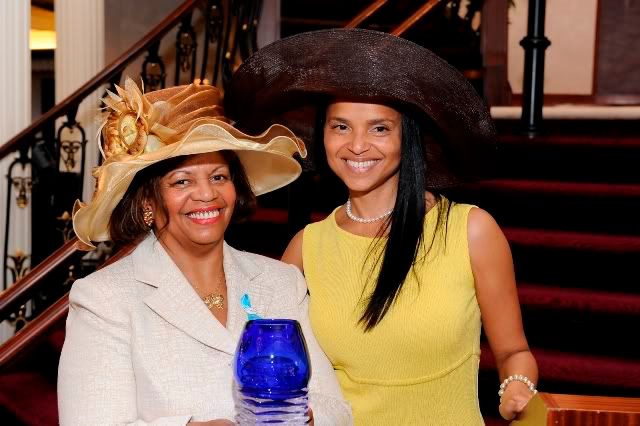 Mrs. Judy Tartt Báloney, 2009 Tea Chairperson for Admirals' High Tea on the Sea, being honored by Victoria Rowell, Founder of the Rowell Foster Children's Positive Plan
The following day, the Admiral's High Tea at Sea event, honoring author Terry McMillan and community leader Mrs. Christine E. Johnson (mother of basketball great Earvin "Magic" Johnson), brought out hundreds of guests and supporters. This year, RFCCP added couture fashion designer B Michael to the beautiful affair with several of his celebrated hats and two original designs; an evening cocktail ensemble and an enormously popular exit suit.
Entertainment was provided by R&B/jazz artist Lalah Hathaway. Actress/comedienne Kim Coles served as celebrity auctioneer and KNBC's Chris Schauble served as master of ceremonies. Other guests included Oscar-nominated actress Angela Bassett, supporter and previous recipient of the Agatha Award, Hattie Winston, Cookie Johnson, Anna Marie Horsford, Tonya Lee Williams, Rolonda Watts and Kiki Sheppard.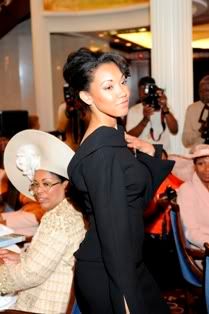 Taisha Taylor modeling the B Michael exit suit for the auction; Victoria Rowell and Honoree of the Agatha Award, Author Terry McMillan
Angela Bassett with Rolanda Watts, Lalah Hathaway and Victoria Rowell
"I remain awed and humbled by the support of foster children through this event," says Rowell. "As a former foster child, I know how much it will mean to our children to be able to attend art classes, receive tutoring, and assistance with college."
Myrna Colley Lee, Taisha Taylor, fashion designer B Michael and Angela Bassett
The Admiral's High Tea event was sponsored by ING Americas, and hosted by Royal Caribbean International with additional support from Casey Family Services, UPS, Jordan Brand, KNBC-TV, Federal Express, and Southwest Airlines.
Photos by Earl Gibson III
Source: bmichael