BankingonOurFuture.org gives teachers and students free access to award-winning money management tools and curriculums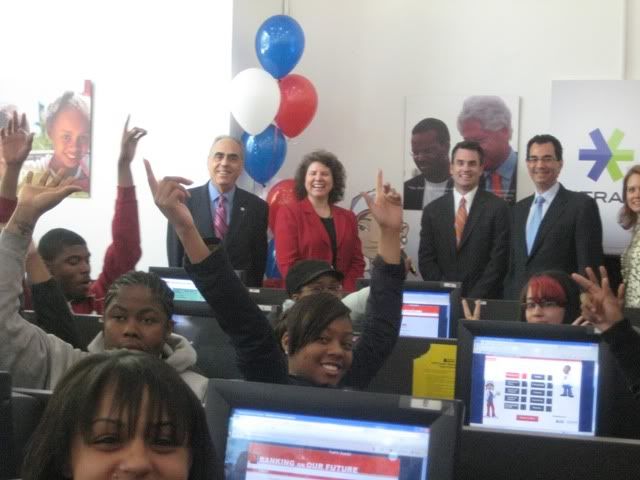 Operation HOPE and E*TRADE FINANCIAL celebrate the launch of BankingonOurFuture.Org at the Harlem HOPE Center. (Left to right) Edward Kramer, EVP Wolters Kauwer; Celie Neihaus, VP, E*TRADE FINANCIAL; Mike Murphy, SVP E*TRADE FINANCIAL; Arlen Gelbard, Executive Advisor Aqualine Partners and students from Susan McKinney Secondary School of the Arts.
Via BusinessWire: Operation HOPE (HOPE), a global organization dedicated to promoting financial literacy and empowerment in low-wealth, underserved communities, has announced the launch of a new website designed to give youth the tools, knowledge and motivation they need to develop healthy financial habits.
BankingonOurFuture.org provides free online access to the award-winning Banking on Our Future financial literacy program, teaching students ages 9 to 18 the basics of banking, credit, checking, savings, borrowing and investing, and other key money management topics. The curriculums employ specialized web video modules designed for elementary, middle and high school/adult level students, and may be accessed 24/7. In addition, teachers may request volunteer banker-teachers to participate in live classroom sessions.
We must teach our youth the language of money the importance of respecting, saving and spending money wisely in order to resolve many of the social and economic issues our world faces today, said John Hope Bryant, Founder, Chairman and CEO of Operation HOPE.
Banking on Our Future is the recipient of Oprah's Angel Network Use Your Life Award and the U.S. Treasury Department's John Sherman Award for Financial Literacy Excellence; and it is the national partner for financial literacy empowerment for the Nelson Mandela Children's Fund in South Africa.
With the support of key partners including E*TRADE and volunteer banker-teachers, Operation HOPE's Banking on Our Future program has reached more than 380,000 students in 1,200 schools nationwide (at no cost to the schools) since its establishment in 1996. Through the launch of BankingonOurFuture.org, Operation HOPE aims to reach a total of five million youth by 2014 as part of HOPE's 5MK initiative.
Operation HOPE is America's leading nonprofit social investment banking and financial literacy empowerment organization. Visit
http://www.bankingonourfuture.org/
http://www.operationhope.org/
, and the blog at
www.operationhope.org/blog
; or call Jennifer Cohen at (917) 477-2822.
Source and photos: BusinessWire