TV talk show personality Leeza Gibbons, Actress and Advocate Holly Robinson Peete, Special Needs Network President Areva Martin and Actress Elise Neal
(Los Angeles, May 18, 2009) More than 200 of Los Angeles' most influential women dressed in pink pumps of all assortments, attended Special Needs Network, Inc.'s (SNN) sold out inaugural "Pink Pump Affair" at the newly opened Montage Hotel in Beverly Hills. This star-studded event featured honoree
Holly Robinson Peete
, Hollywood legend
Tanya Hart
, and celebrity talk show host
Leeza Gibbons
, actresses
Beverly Todd
,
Victoria Rowell
,
Elise Neal
and
Erica Hubbard.
The "Pink Pump Affair," the brainchild of Special Needs Network's co-founder and president, Areva Martin, Esq., was designed to bring together powerful women from different backgrounds and to garner their support for more autism research and resources. Despite difficult economic times, the event was an overwhelming success. Sponsored by Broadway Federal Bank, Time Warner Cable and Martin & Martin, LLP, the event provided women an opportunity for networking and bonding, while raising money for children with autism in poor communities.
Areva Martin and Holly Robinson Peete; Martin with Tanya Hart
Martin, a Los Angeles attorney, told the audience her personal story of finding out her youngest son Marty had autism and her struggles to get him help. She encouraged the audience to take action and to join Special Needs Network's efforts to raise awareness and to provide resources to underserved families. She also introduced the Special Needs Network Ambassadors, mothers of children with autism who attended the event and represented the thousands of families that SNN serves annually.
The afternoon tea began with a silent auction featuring designer shoes from David's of Beverly Hills, Madison and J and A Shoes, manufacturers of the popular Athena Alexander line carried exclusively in Nordstrom's. The guests were then treated to delightful tea service and a live auction conducted by comedian Broderick Price. The stunning Beverly Todd, best known for her role in the "Bucket List" and "Lean on Me," with Morgan Freeman, took the run-way in an Edward-Lowells of Beverly Hills reversible fox full length fur coat.
Actress Erica Hubbard; Actress Beverly Todd and Tanya Hart
Special Needs also honored the tremendous service and accomplishments of five women including actress Holly Robinson Peete, who has become an outspoken activist for autism following her own son's diagnosis;
Janice Bryant Howroyd
, the president and CEO of one of the largest temporary staffing agencies in the country;
Dr. Ruth Creary
, president and CEO of Visiting Angels, LLC and former executive director of South Central of Los Angeles Regional Center; and
Carliss McGhee
, author and founder of Khocolate Keepsakes, a literacy program for underserved children. In accepting the beautifully engraved Tiffany necklace which was presented to all honorees, Ms. Robinson Peete told the emotional story of her family's personal journey in accepting that her son had autism.
"We were in denial for many years and as a parent I know how important the work of Special Needs Network is. I applaud SNN president Areva Martin and the work of the organization," states Robinson Peete.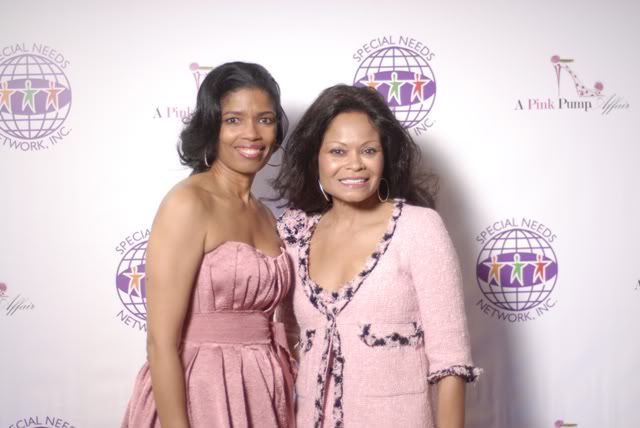 Areva Martin and Janice Bryant Howroyd
Lifetime achievement award recipient, Congresswoman
Maxine Waters
(D-34), applauded the work of Special Needs Network. The audience rose to its feet and cheered as the Congresswoman vowed to introduce and support more federal legislation on autism research. Waters, a long time advocate for poor and underserved communities, said that Congress was not doing enough to find the cause and preventive measures for the disorder that now impacts one in every 150 children born in the United States.
Congresswoman Maxine Waters with Areva Martin
The afternoon ended with a fashion show featuring the latest designs from Trina Turk and furs from Edwards-Lowell of Beverly Hills. All guests were given specially designed gift bags from Trina Turk, which included make-up compliments of L'Oreal Paris, vitamin drinks from Verve, a CD of Stevie Wonder's new hit single compliments of Hidden Beach Records and red boxers compliments of Fredericks of Hollywood.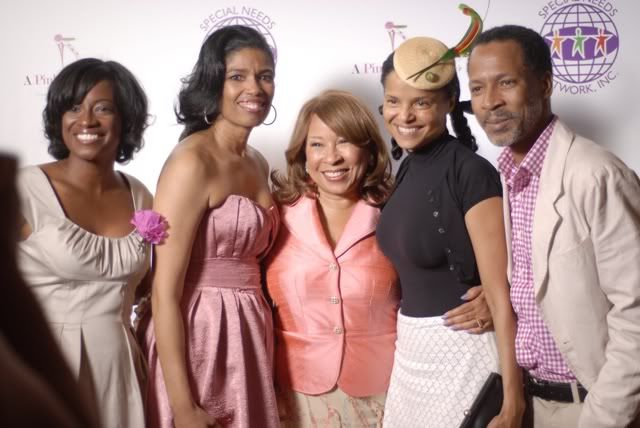 SNN Staff, Areva Martin, Tanya Hart, Victoria Rowell and Radcliffe Bailey
Special Needs Network
is a grassroots non-profit organization which provides educational support and resources to thousands of families in South Los Angeles. In less than five years, the organization has gained national and local praise for its innovative programming. Its president, Los Angeles attorney Areva Martin, was identified by Redbook Magazine as one of 10 women in the nation changing the face of autism.
The "Pink Pump Affair" was orchestrated by up-and-coming event planner Todd Hawkins of the Todd Group. Known for his work at UCLA and the Charles Drew University "Jazz at Drew," Hawkins planned every detail flawlessly. The word is out and women are already shopping for the perfect pair of pink pumps for what promises to be a stunning 2010 Pink Pump Affair.
Source and photos: The Todd Group