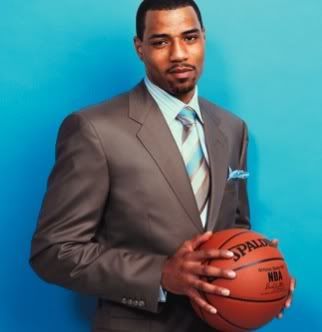 The
Kenyon Martin Foundation
at
The Giving Back Fund
has announced that NBA star Kenyon Martin will host an exclusive benefit cocktail party at Marc Events on June 29, 2009 in Dallas, Texas at 6:30 PM. Kenyon and a number of his celebrity friends will be in attendance. Cocktails and hors d'oeuvres will be served. A limited number of tickets will be available to the public at $50 per ticket. Tickets are tax deductible to the fullest extent of the law.
Proceeds from the event will benefit The Salvation Army Cedar Crest Community Center and Bryan Adams High School, Kenyon's Alma Mater in a continued effort by The Kenyon Martin Foundation to assist underserved young people.
"I understand what it's like to be a young person growing up with less than ideal circumstances," stated Kenyon Martin. "I am excited to be able to put on an event in my hometown that will help us come together as a community to provide the young people with the resources they need to succeed."
Tickets can be purchased at
www.KenyonMartinFoundation.org
. You can also call The Giving Back Fund at 310.649.5222.
About The Kenyon Martin Foundation
The foundation focuses on providing life-changing opportunities to underserved youth, as well as assisting families without father figures. The Kenyon Martin Foundation has a bi-annual grant making cycle open to community-based charities in Denver and Dallas. Deadlines for proposals are May 15 and Sept 15th, respectively. For more information please visit
http://www.kenyonmartinfoundation.org/
.