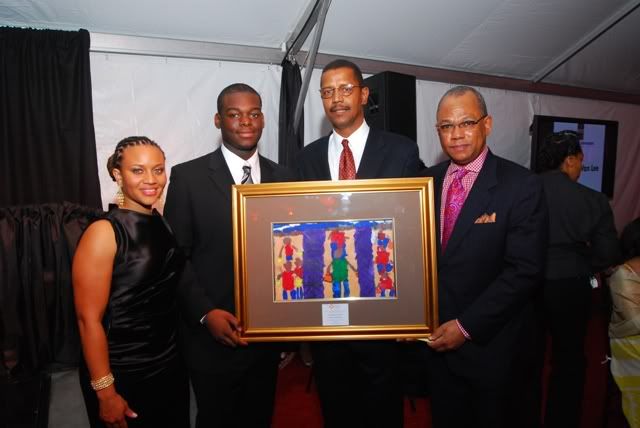 Annual gala raises $775,000 for the Abyssinian Development Corporation and the Harlem community
Hundreds of Harlem's elite gathered under a chandelier adorned white tent at the PS 175 School in Harlem to attend the 2009 Harlem Renaissance Ball and to celebrate the 20th anniversary of the Abyssinian Development Corporation (ADC) on June 2, 2009. In above photo: President and CEO of the ADC Sheena Wright, ADC student Elie Rinchere, Honoree Lionel McIntyre and the Rev. Calvin Butts.
The evening began with a VIP reception at 6 pm, followed by the awards program, dinner, and a performance by R&B artist Chrisette Michele. BlackGivesBack attended the gala as a guest courtesy of event partner Morris + King.
Despite the economic climate
that has definitely impacted the non profit community, a total of 650 people attended the event, raising over a quarter million dollars.
Honoree Mortimer Zuckerman and Reverend Calvin Butts, III
The Reverend Calvin O. Butts III, pastor of Abyssinian Church and Founder and Chair of the ADC, opened the program sharing how the crack epidemic, prison incarceration rates and various other societal ills twenty years ago spurred the creation of the ADC. He said the church felt it had to do something. Karen Phillips, the first CEO of the ADC, was in attendance and received a standing ovation. Mayor Bloomberg gave ADC its praises and shared that from their efforts, the Thurgood Marshall Academies opened its doors in 2004, Harlem's first high school in 50 years. In addition to this accomplishment, the ADC had just received good news the very day of their event that 93% of their students scored at the highest levels in math.
Four individuals were honored for their support of the ADC: Richard Beattie, Chairman of Simpson Thacher & Bartlett LLP; Professor Lionel McIntyre, Associate Professor of Community Development at Columbia University; Kathryn Wylde, President and CEO of the nonprofit Partnership for New York City; and Mortimer Zuckerman, Chairman and Editor in Chief of U.S. News & World Report and publisher of the NY Daily News. Each honoree was introduced and received artwork from ADC students.
For our dining pleasure, we feasted on Dizzy's chopped harvest salad with grilled asparagus and candied pecans, pan-roasted arctic char with beets and cobalt carrots, and a dessert array of miniature sweet potato pie, chocolate bread pudding and individual peach cobbler. After the program, we were treated to a special performance by Chrisette Michele, who performed "Epiphany" from her latest album that debuted at #1 on the Billboard chart, as well as a medley of songs from her first album and timeless classics. Ray Chew & the Crew then brought the audience to its feet, performing hits from artists such as Beyonce and Gnarls Barkley.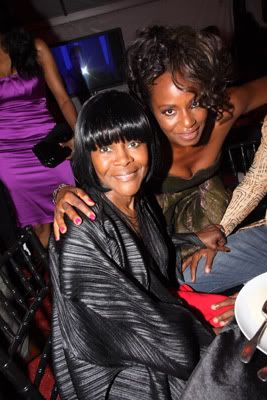 Chrisette Michele performs; guests actress Cicely Tyson with Saundra Parks, owner of the Daily Blossom and Harlem Renaissance Ball Event Chair
Throughout the course of the evening, guests continued to support the ADC by using Textgiving.com. We were asked to use our cell phones to send a message with our pledge, which was displayed on the many video screens lining the tent.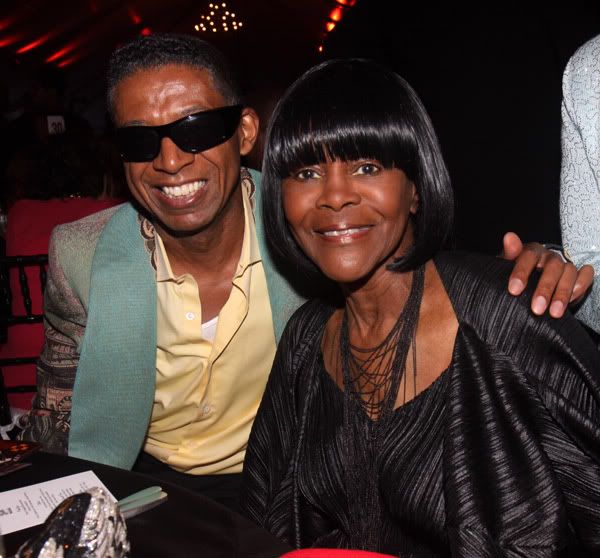 Among the guests were fashion designer b michael and actress Cicely Tyson. b michael shared with BlackGivesBack, "I was very excited to celebrate the good work ADC continues to do... enriching one of our most culturally rich communities... Bravo for creating a beautiful tent in Harlem as a venue."
To make a pledge via TextGiving.com, visit
http://textgiving.com/adc/
.
For more information on ADC's programs and initiatives, visit
www.adcorp.org
.
Photos: Wireimage and Morris+King