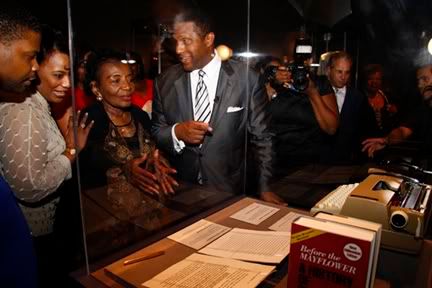 Talk show host Tavis Smiley tours the 'America I Am' exhibit with tour visitors
Most major cities have a museum devoted to the history and contributions of African Americans to this country. So what makes the America I Am exhibit different? For one, its a traveling museum that is being described as the broadest museum exhibition of its kind.
America I Am
is a four year touring museum that features nearly 500 years of American history, and it celebrates the impact that African Americans have had on this country and the world. The exhibit stands at 15,000 square feet and features over 200 artifacts from every period of U.S. history that include media, music, objects, text and narration. What's also different about this exhibit is that visitors can leave a "video imprint" that has the potential to become one of the largest recorded oral history projects in U.S. history.
WalMart Stores is the presenting sponsor for this exhibit, and its Senior Vice President of Corporate Affairs, Esther Silver-Parker, has written an op-ed for the Atlanta Journal Constitution titled "
Each of us can honor black history by helping others
."
Youth performers dance at the exhibit premiere
The exhibition is developed in partnership with Tavis Smiley, and organized by Arts and Exhibitions International (AEI) and Cincinnati Museum Center. You can explore the exhibit
HERE
, and visit the website at
www.americaiam.org
.
The exhibit is currently in Atlanta at the Atlanta Civic Center through September 6, 2009. This event is great for a family activity, summer camps, and mentors and mentees. Tickets are available through
Ticketmaster
(from $5-$12) and select Georgia WalMart stores.