Although we're living in uncertain economic times, most Americans are optimistic about their financial future. A recent study conducted by Nationwide Insurance and The Smiley Group revealed that nearly half of African Americans in Washington, DC say they are not taking any steps to better their financial circumstances. This includes not having a written financial plan, not knowing where to start when it comes to financial planning, and not having a financial advisor- because they think they don't need or can't afford one.
Meet our latest Insider,
Kenneth Smaltz, Jr.
His goal? To change the way people invest – by using rare coins! Mr. Smaltz owns K. Smaltz Inc., the first African American rare coin company in the United States. Based in Freeport, NY, his company buys and sells rare coins to private individuals and collectors to help them diversify their investment portfolios.
With 25 years of experience in this niche industry and sales over $10 million dollars, K. Smaltz Inc.'s mission is to change the perception of rare coin collecting from being a hobby to becoming a profitable investment options for investors.
Prior to starting his own company, Smaltz worked with a $25 million dollar rare coin company. During his time there, Smaltz built a net worth nearing $1 million dollars, selling coins to high profile clients in the business and entertainment world.
In addition to selling rare coins, K. Smaltz Inc. also designs commemorative coins for major companies and organizations celebrating milestone events. In 2004, K. Smaltz Inc. was commissioned to produce a rare coin, the Friars Centennial Celebration Coin, for The Friars Club's 100th Anniversary. Read on to learn how he got started in this field, rare coin collecting and African Americans, and his charitable involvement.
Coin collecting and African Americans aren't typically synonymous. When did your interest in rare coins begin?
Kenneth Smaltz (KS): Well, I have always loved history...from as far back as I can remember. Coins represent history. I have always been interested in items that were around before I was born. Looking at them and holding them in my hands would take me back in time allowing me to use my imagination. Collecting, within the last 12 years, has become an interest of mine. To this day I collect all things from Black memorabilia and antiques to paintings and automatic timepieces.
I began my career in rare coins strictly by happenstance. At the age of 21, I was hired to work in the shipping department of a precious metals and foreign currency company. They happened to have had a rare coin division. After two years with the company I was promoted to the sales division and thus started my career in coins.
As for African Americans and coin collecting being synonymous, you are right to some degree. However, you might be interested in the history of a set of four coins that I am donating to the
Evidence Dance Company
benefit this August 22nd. These four coins represent the only time in 217 years of United States history that coins were minted depicting African Americans. The coins are likely to bring in well over $1,000 for the charity. The set includes a 1946 Booker T. Washington Memorial Half Dollar, a 1951 Washington-Carver Commemorative Half Dollar, a 1997 Jackie Robinson Proof Silver Dollar and a 1998 Black Revolutionary War Patriots Proof Silver Dollar. The coins will be auctioned off via the benefit's online partner: Charity Buzz.
Do you have any African American investor clients? Are there efforts that you know of to educate African Americans to use rare coins as a method of investment?
KS: In my 25 years in the rare coin industry, I have only had five African American clients. It's just not something that is talked about in the black community. We are familiar with more traditional forms of investing such as stock, bonds, real estate etc. However, I have recently been getting calls from some very important black businessmen and women who heard about what I do. Perhaps because I have been making the rounds with prominent black leaders and executives, educating them about what I do. The reception has been an extremely positive one. Word-of-mouth referrals have been amazing.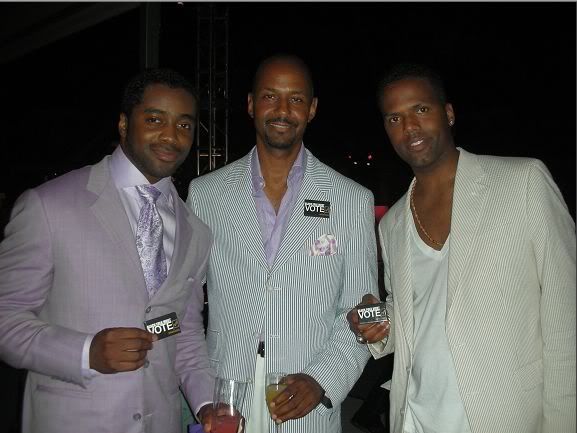 Kenneth Smaltz (center) with television correspondent AJ Calloway (right) and a guest at a Rush Philanthropic gala fundraiser in the Hamptons, New York
Do you have plans to, or are you currently, sharing your career with youth?
KS: It is definitely on my radar. As a matter of fact, I just stuck my toe in the water with an organization called Pencil. I signed up to volunteer my services. Pencil utilizes the experiences of individuals working in corporate America to take what they have learned and bring it into the schools of New York.
What charities do you support? Any upcoming charitable events that you're involved with?
I am having a BBQ at my house in July and I'm asking my guests to donate $10 or more to the Alzheimer's Foundation. A party with a purpose is what I'm calling it. With all the crazy things going on in the world, friends, family and giving back is more crucial than ever.
My father, who suffers from Alzheimer's, lives with me. It's something close and dear to me.
Over the years I have supported many causes from the arts (Alvin Ailey Ballet, the Museum of Modern Art, Evidence Dance Company) to Habitat for Humanity, and feeding and clothing the homeless of New York with the 5th Avenue Presbyterian Church.
And, I'm collaborating with a NY-based dance company on a commemorative coin in celebration of their 25th anniversary. Something I'll be able to speak more about in the coming months.
If you're a company or non profit organization interested in a commemorative coin to mark a milestone event, and to learn more about his company, visit the website at
www.keeperofthecoins.com
.