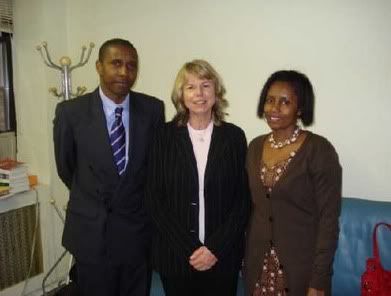 The Write Stuff Joins ENWA-Rwanda In Promoting Literacy

Via Press Release: Continuing its mission to encourage reading and spread its addiction to books around the world,
The Write Stuff Literacy Campaign
(previously featured
HERE
and
HERE
), is pleased to announce its support of
ENWA-Rwanda
, a not for profit organization that supports Rwanda's post-genocide reconstruction efforts. The organization contributes to the healing of the country after the traumatic events of 1994 by supporting development initiatives started by women seeking self-reliance and improvement of the welfare of their communities.
ENWA's mission is to empower women to become competitive entrepreneurs through enhancing their potential to start and manage income generating projects. It provides them with business advisory services and develops their entrepreneurial skills.
In 2009, however, ENWA began using its influence to gather reading materials for Rwanda, hosting a book drive that garnered the support and attention of individuals across the world. It was through this endeavor that
Cyrus A. Webb
, The Write Stuff's Founder and host of Conversations LIVE! Radio, was introduced to
Claire Umubyeyi
and
Delilah Rothenberg
.
"The work Claire and Delilah are doing is so incredible and needed," says Webb, 33. He received an email from Delilah after she saw a post about The Write Stuff on
http://www.blackgivesback.com/
. "I was glad we could work together, and it became a chain reaction that I hope will further the cause of both of our organizations." Webb interviewed the ladies on Conversations LIVE! Radio, allowing them to talk about the work they were doing and how the public could get involved. (Listen to the interview by clicking here:
http://tobtr.com/s/545839
).
Claire and Delilah released the following statement: "We would like to thank The Write Stuff for their support and publicity of the ENWA-Rwanda book drive. Books are scarce in post-war Rwanda and illiteracy is high. Although Rwanda has been a French speaking country in recent history, the President is taking initiative to promote English as a new common language. Therefore, our assistance sending proper teaching materials will help to prevent Rwandans of all ages from being left behind. The Write Stuff connected us with the very impressive authors, Barbara Worton (Too Tall Alice--- seen above with Umubyeyi) and Stacey Kannenberg (Let's Get Ready series) to help with the drive, as well. Thanks again, Cyrus and team!"
Both organizations continue to need and solicit your support. For more information about The Write Stuff Literacy Campaign visit
http://www.thewritestufftv.com/
or contact Cyrus A. Webb at
cawebb4@juno.com
. For more information about ENWA, visit
http://www.enwa-rwanda.org/
, contact Claire Umubyeyi at 646.552.1037 or
cu.tessy@gmail.com
.