Don Cornelius
, host of the show "Soul Train": "His passing will be grieved far beyond that of any other singer, composer, producer, dancer and choreographer, in the history of the world. Indeed, in my very firmest, personal, belief there will never, ever, be another Michael Jackson!"
Berry Gordy Jr
., Motown Records producer and founder:"I am somewhat numb. I'm shocked at the death of Michael Jackson. It's like a dream, a bad dream. He was so much like a son to me. It's just hard to realize that Michael Jackson is not here.
" ... As a kid Michael was always beyond his years, he was an innovator, he was a genius at what he did. He had a knowingness about him. At 9 years old, when I first started working with him, he seemed to me like he had been here before. He was just so knowledgeable about life."
Quincy Jones
, conductor, composer, arranger, trumpeter:"I am absolutely devastated at this tragic and unexpected news. For Michael to be taken away from us so suddenly at such a young age, I just don't have the words. Divinity brought our souls together on "The Wiz" and allowed us to do what we were able to throughout the '80s. To this day, the music we created together on "Off The Wall," "Thriller" and "Bad" is played in every corner of the world and the reason for that is because he had it all ... talent, grace, professionalism and dedication. He was the consummate entertainer and his contributions and legacy will be felt upon the world forever. I've lost my little brother today, and part of my soul has gone with him."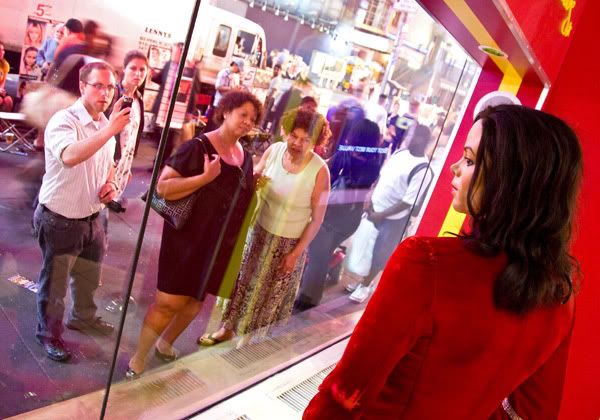 Gatherers outside of Madame Tussauds Wax Museum in New York, June 25, 2009
Jonelle Procope
, President and CEO of the Apollo Theater Foundation: "The entire Apollo family is saddened to learn of Michael Jackson's untimely passing. Michael first performed at the Apollo in 1969 with his brothers when he was only 9 years old, winning Amateur Night and catapulting their career as the Jackson 5. We will always remember Michael in our hearts as a true Apollo legend, known for his professionalism and grace. Our sympathy goes out to his entire family. He will be deeply missed."
John Legend
, singer, composer:"Michael Jackson will always be remembered as one of the greatest performers in the history of popular music. As a child of the '80s, I feel as though his music and his videos have been an inseparable part of my life and that of an entire generation. And the powerful thing about great music is that it will always live on. He was and always will be an icon. My heart goes out to his family, friends and countless fans for their tragic loss."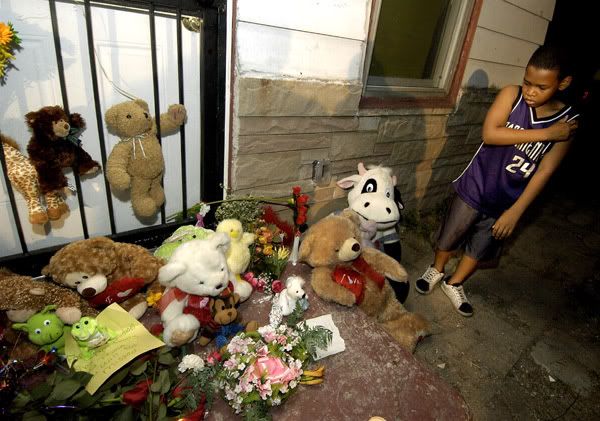 A youth stands in front of Michael Jackson's childhood home in Gary, Indiana
Beyonce
, singer, songwriter: "This is such a tragic loss and a terrible day. The incomparable Michael Jackson has made a bigger impact on music than any other artist in the history of music. He was magic. He was what we all strive to be. He will always be the King of Pop! Life is not about how many breaths you take, but about how many moments in life that take your breath away. For anyone who has ever seen, felt or heard his art, we are all honored to have been alive in this generation to experience the magic of Michael Jackson. I love you, Michael."
Usher
, R&B singer: "I pray for the entire Jackson family, particularly Michael's mother, children and all his fans that loved him so much. I would not be the artist, performer and philanthropist I am today without the influence of Michael. I have great admiration and respect for him, and I'm so thankful I had the opportunity to meet and perform with such a great entertainer, who in so many ways transcended the culture. He broke barriers, he changed radio formats! With music, he made it possible for people like Oprah Winfrey and Barack Obama to impact the mainstream world. His legacy is unparalleled. Michael Jackson will never be forgotten."
Sources: CNN.com and MTV.com
Photos: Wireimage