THE HIP-HOP ASSOCIATION and The CENTER FOR MULTICULTURAL EDUCATION AND PROGRAMS at NYU proudly present: THE WOMANHOOD PASSAGE FUNDRAISER RECEPTION, an evening acknowledging the strength, beauty, leadership, challenges and success of women in Hip-Hop, Thursday, June 25, 2009.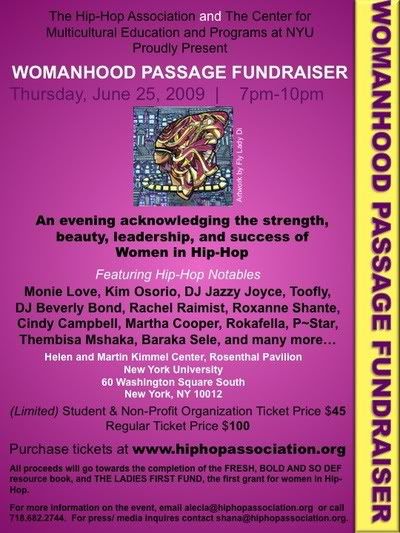 Join them for a memorable evening with Hip-Hop scholars, activists, writers, poets, performers and entrepreneurs. Featuring Marcella Runell Hall, Monie Love, Joan Morgan, Kim Osorio, Beverly Bond, Jazzy Joyce, Toofly, Rachel Raimist, Shiro, Roxanne Shante, Rekha, Cindy Campbell, Rokafella, J-Love, Thembisa Mshaka, Baraka Sele, April Silver, Mahogany Brown, Aja-Monet, Lin Que, Kyra Gaunt, DJ Kuttin Kandi, Iris Morales, Fiona Bloom, P-Star, Rosa Clemente (2008 VP Candidate for the Green Party), and more.

All proceeds will go towards the completion of the resource book, FRESH, BOLD, AND SO DEF, and THE LADIES FIRST FUND, the first grant for women in Hip-Hop.

Supported by NJPAC Alternate Routes program of New Jersey Performing Arts Center, The Center for Urban Entrepreneurship & Economic Development at Rutgers Business School, New York Liberty, Divine Orchid, Ford Foundation, Union Square Awards, and the NYU Office of Lesbian Gay Bisexual Transgender Student Services (LGBTSS).