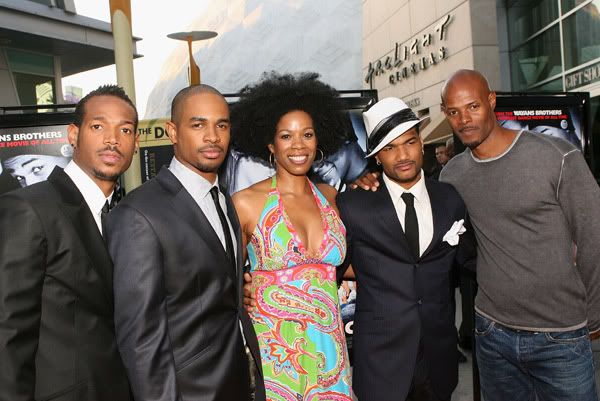 Members of the Wayans family at the Dance Flick movie premiere on May 20, 2009: Marlon, Damon, Jr., Kim, Damien and Keenan Wayans
(New York, NY) – Before taking Hollywood by storm, the famous Wayans family of comedians grew up in the Fulton Housing Developments of Chelsea and participated in many of the services for children available at Hudson Guild. On June 25th, members of the family will be returning to Chelsea to help raise awareness of the Guild and the indispensable programs it provides to over 14,000 children, youth, and seniors.
"As kids growing up in the Fulton Projects in Chelsea, my siblings and I were fortunate enough to enjoy the many wonderful free programs and services that Hudson Guild provided for the community," said Kim Wayans. "The Guild was an enormous help in keeping us engaged in positive activities and out of the mischief the streets had to offer. During this difficult economic climate, organizations like Hudson Guild have to provide more services to more people, and my brothers and I were eager to help to raise awareness of an organization that has done so much for so many."
Kim Wayans will begin the evening with a performance of her autobiographical one woman show,
A Handsome Woman Retreats
at the Hudson Guild Theatre. This insightfully funny journey follows an unhappy woman plagued by panic attacks as she goes on a 10-day silent meditation retreat and uncovers both the source and the cure for her anxiety. Along the way, Kim brings to life many of the unique characters whose influences contributed to the Wayans Family becoming one of the most successful families in entertainment today.
On the following day, the Wayans Family will host children's activities at the Guild. First, Kim Wayans will read from her Amy Hodgepodge book series. After the reading, the Wayans Family will host a screening of their animated special, The Boo Crew: Sneaker Madness. To end the day of fun, the family will conduct a comedy workshop for teens.
All benefit events will take place at the Hudson Guild John Lovejoy Elliott Center, 441 West 26th Street, New York, NY. Kim Wayans' performance on Thursday, June 25th, will be from 7:00-8:30 pm. The children's activities will be on Friday, June 26th, from 3:00-8:00 pm. For performance ticket information, call 212.760.9812 or email jhazlitt@hudsonguild.org. For more information on Hudson Guild's Children and Youth Services, visit
http://hudsonguild.org/
.
Kim Wayans will also be conducting a book reading and signing on Saturday, June 27th at 2:00 pm at Harlem's Hue-Man Bookstore located at 2319 Frederick Douglass Blvd., New York, NY 10027. Kim will be reading from her latest Amy Hodgepodge release, The Secret's Out. This event is open to the public.
About Hudson Guild: Founded in 1895, Hudson Guild is a multi-service, multi-generational, community organization rooted in and primarily focused on Manhattan's Chelsea neighborhood. Through a variety of programs and services, including after-school care, professional counseling and community arts, the Guild seeks to empower all individuals and families, particularly those in economic need, to achieve their highest potential.
Source: Sharp & Associates PR/Photo: Wireimage