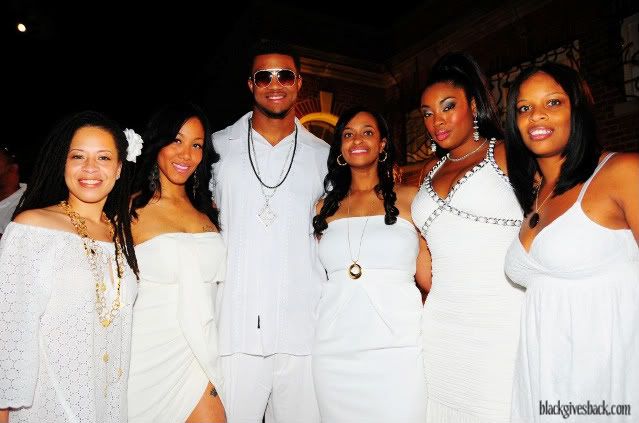 Via Press Release: Celebrities and athletes of local and national renown alike came out in support of the Aaron Maybin and Liris Crosse First Annual Kings & Queens All White Affair to benefit the Aaron Maybin Foundation in Baltimore, MD on Friday, July 3, 2009. Co-hosts Aaron Maybin (first-round pick in the 2009 NFL Draft to the Buffalo Bills) and actress and supermodel Liris Crosse looked regal in their all-white attire as they greeted guests at an invitation-only pre-event VIP reception at Sweet Tooth Dessert Shop. Liris dressed for the event in a stunning gown provided by Jovani, and both co-hosts were draped in diamonds by Rafaello & Co.
Enveloped in an intimate candle-lit terrace filled with food provided by Forum Caterers, specialty cocktails and well-wishers, the co-hosts addressed their special guests, sponsors and close friends with heartfelt thanks and appreciation for their support.
Liris Crosse and Aaron Maybin
Promptly at the conclusion of the reception, a caravan of chauffeured stretch limousines arrived to escort VIP guests and celebrities to the Bourbon Street Ballroom, an elegant 3 level venue situated in downtown Baltimore, where they were greeted by press and other supporters – Rohan Marley, Hip-Hop MySpace Records artist Bossman, NFL Baltimore Ravens linebacker Jameel McClain, Gabriel "The Jeweler" Jacobs with Rafaello & Co., NFL Tennessee Titans center Jason Murphy, NFL Carolina Panthers defensive tackle Lonnie Harvey, retired NFL linebacker for the Washington Redskins and New York Giants and 3-time Pro Bowler LaVar Arrington, retired NFL wide receiver for the Green Bay Packers and Philadelphia Eagles Antonio Freeman, and point guard for the NBA's Washington Wizards Juan Dixon - who came out to hit the red carpet.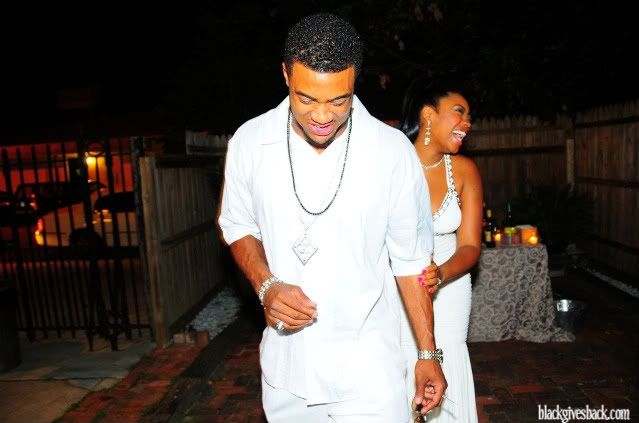 Proceeds from this event will go toward future programs from the Aaron Maybin Foundation. Both Aaron Maybin and Liris Crosse are dedicated to serving the needs of underprivileged and at risk-youth in the Baltimore, MD community.
For more information about the event and the Aaron Maybin Foundation please visit
http://www.aaronmaybin.com/
.
Photo credit: Getty Images/Abby Brack and Anthony Artis