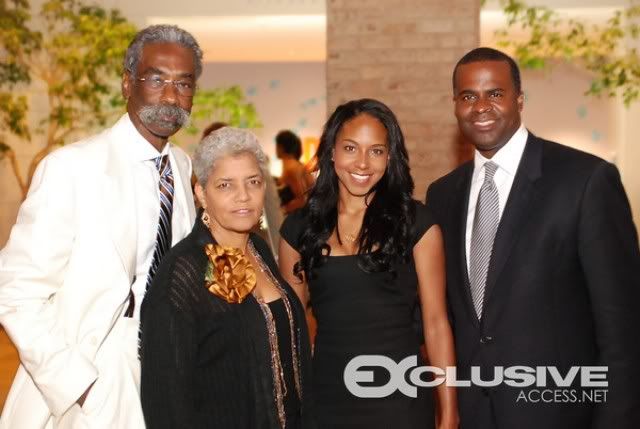 Atlanta Mayor Shirley Franklin (2nd from left), Georgia State Senator Kasim Reed (right) and guests
ATLANTA, GA – On Saturday, July 11, 2009, the Gidewon Foundation hosted its annual Party for a Cause Ball. The invitation-only event was held at the Atlanta attraction and beautiful Fernbank Museum of Natural History.
The night was full of sophistication and elegance. Themed as "An Evening under the Stars," over 500 guests enjoyed an evening like no other filled with great music and a live band performed by the Georgia Perimeter Wind Ensemble, dancing, hors'doeurves, an open-bar and the night's popular Harlem Nights Casino Room.
"The event was a grand success. It was nice to have the people that support our cause come out and celebrate with us. We started the Gidewon Foundation years ago to help serve our local community and its nights like this that reminds us that we are not alone in our mission," states Michael Gidewon of the Gidewon Foundation.
The Party for a Cause Ball was created solely to promote awareness about giving back to the community. This annual event combines a great social atmosphere with a charitable cause. All proceeds are given to support a selected local and/or national non-profit organization. This year's event supported the launching of the Grant D Knowledge Foundation, an organization founded by Seattle Seahawks cornerback/safety Deon Grant. The Grant D Knowledge Foundation aims to revitalize communities by improving the quality of life for at-risk and underprivileged youth.
Gidewon Foundation is a 501 (c) 3 organization founded in late 2004 whose mission is to help improve the quality of life for local youth and those who are homeless. The foundation focuses on educational and societal issues, and community revitalization. The goal of the foundation is to provide financial support and joint ventures through partnerships, which promote initiatives that combat homelessness and improve their network of resources and to assist underprivileged children in attaining their educational goals.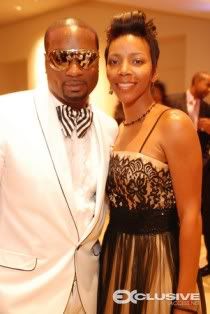 Deon Grant of the Seattle Seahawks, Founder of Grant D Knowledge Foundation and Alex Gidewon; Devyne Stephens and Guest
Grant D Knowledge Foundation provides philanthropic support and grants to nonprofit organizations that provide community based support services that address the immediate needs of at-risk children. Accordingly, beneficiaries include nonprofit organizations that enhance the opportunities for our youth to rise to their highest potential; organizations that provide, among other things, educational enrichment (tutoring), mentoring, sports recreation, access to technology, leadership training programs, and academic scholarships.
Attendees included supporters of the Gidewon Group, the Gidewon Foundation, the Grant D Knowledge Foundation, corporate partners and an array of guests from the Atlanta community. Notable attendees included Atlanta Mayor Shirley Franklin, Georgia State Senator Kasim Reed, Attorney Charles Mathis, Deon Grant of the Seattle Seahawks (NFL), Charles Grant of the New Orleans Saints (NFL), Kandi Burruss of the Real Housewives of Atlanta and former member of Xscape, Chaka Zula CEO of Disturbing the Peace Records, Abou (Bu) Thia CEO of Konvict Music, Devyne Stephens CEO of Upfront Entertainment, Manny Halley CEO of Imani Entertainment and manager of Keyshia Cole, Interscope Recording Artist Verse Simmons, and female rappers Rasheeda and Diamond.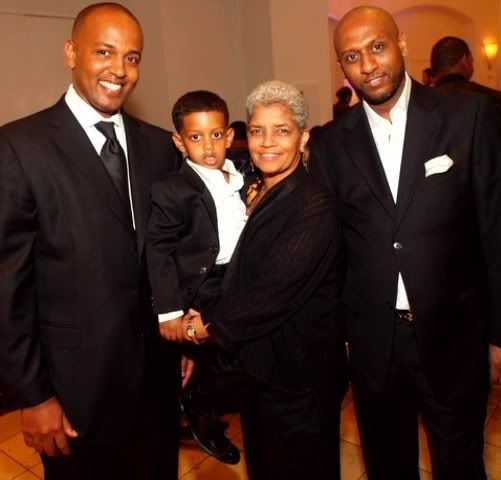 Michael Gidewon, Michael's son, Shirley Franklin and Alex Gidewon
For more information on the Gidewon Foundation, please visit
http://www.gidewonfoundation.org/
or contact Crystal Betts at 770-235-2192 or cbetts[at]gidewonfoundation.org.
Photo Credit: ExclusiveAccess.net
Source: 5 Star Relations LLC