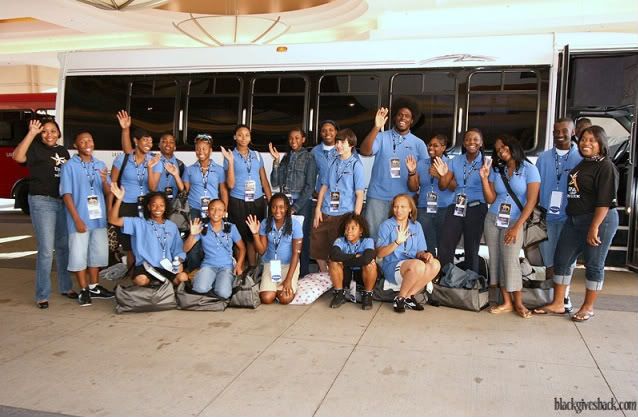 Via Press Release: At the break of dawn on Monday, July 13th 2009, 18 enthusiastic Detroit metro area youth assembled at MGM Grand Detroit to begin a journey that they hope will give them a "New Look" on life. By midday, they will have landed in Atlanta, settling in at Emory University to begin a two-week experience that could change the course of their lives.
Camp New Look is sponsored by R&B Icon Usher Raymond IV to empower youth from underserved communities across the country, developing the skills they will need to pursue careers in the sports and entertainment business. This trip marks the first year youth from the Detroit metro area have been able to participate in this camp, joining 125 youth from across the United States.
"I have known about this camp for two years, but wasn't sure how to get there," said first time attendee Taylor Hopkins, 18, who will attend Wayne State University in the fall for Mass Communications and Journalism. "I am ecstatic."
This opportunity was made possible by MGM Grand Detroit, which hosted a red carpet fundraiser for Usher's New Look Foundation, the organization that sponsors the camp. MGM Grand Detroit President and Chief Operating Officer Lorenzo Creighton serves on the foundation's board, and wanted Detroit area youth to be able to take part in this life-altering experience. As a result of the fundraiser last year, Detroit youth are participating in this camp free of charge.
"As a board member, I knew firsthand, how impactful this camp has been on young people from across the country," Creighton said. "As a member of this community, I knew that there were many young people deserving of this opportunity which offers a new perspective on the entertainment industry and a jumpstart on gaining experience."
Hopkins was referred to the camp by Communities in Schools based at Southeastern High School of Technology. Hopkins studied Mass Media for Mass Communications at Golightly as well.
"I have been working in TV and radio studios in school, but I am excited to learn a lot more," she said. "Ever since I was a kid, I have had a camera in my hand – I was hooked – and now I want to accomplish things I have never accomplished before."
Each year during Camp New Look, young people are brought from across the country to Atlanta for a two-week residential camp that exposes them to service and social entrepreneurship principles and teaches them both hard and soft business skills. With this knowledge and a renewed commitment to giving back, the youth receive the power to return to their communities and serve.
"We believe that we have some of the best and the brightest the Detroit Metro Area has to offer," said Dee Dee McKinney Odom, MGM Grand Detroit Director of Community Affairs. "We hope that this experience instills in each of them a sense of service to their community, as well as provide them with hard skills to be used towards successful careers."
All of the youth were referred by several MGM Grand Detroit community partner organizations. Tyler Franklin, 12, was referred by Youth Connection, and her mom, Yvette Franklin of Macomb Township is eternally grateful.
"I am so thrilled for her and all of the children," said mother Franklin. "Big kudos to MGM Grand Detroit for everything they are doing for these kids – it leaves me speechless. I think this is a great way of giving back to the community."