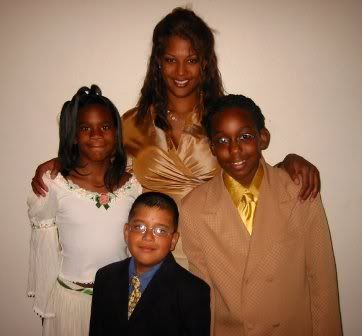 In 2005, Charyn Harris, the former keyboardist for R&B legend Barry White and a graduate of the Berklee College of Music, founded
Project MuszEd
, a non profit organization that provides free and low cost music instruction, instruments and opportunities for financially challenged and under-served youth in Los Angeles. She was inspired to create the program to support youth who wanted to play an instrument or to sing, but didn't have the financial means to pursue it.
She shares about the youth, "Some were told that they wouldn't amount to much and many were used to having their dreams crushed. I too, faced many challenges, so I could identify with them. I was told that I would never make it in the music industry, but by learning to believe in myself, staying focused and determined, I was able to have a wonderful career doing something that I loved. I wanted to let these kids know that if I could do it, they can too. It didn't matter where they lived or how much money they did or did not have. I became dedicated to finding whatever resources I could to support them."
Since its founding, the program has been very successful. Harris teaches the youth piano, voice, and theory and performance musicianship, and she personally called her associates in the music industry to arrange career day clinics for her students. To date, Project MuszEd has raised funding for instructors, tuition support, instruments, and has provided instruction to over 150 students. Harris soon began receiving calls from other families that heard about the program. As a result, she started to expand to serve as many youth as possible. Project MuszEd now manages the music program of a youth center, A Place Called Home, located in South Los Angeles.
Among their successes include raising funds for 14 youth to attend a summer program at Berklee College of Music in Boston (five of their students will be attending Berklee, and two on full four year scholarships), raised money to help send one of their students to sing at Carnegie Hall, and opening for the pop group the Black Eyed Peas at their PeaPod Benefit. Other performers they have worked with include The Isley Brothers, Jimmy Jam & Terry Lewis and others.
Harris shares, "It gives me great joy to help youth and families that are truly committed to music education. Whether it is giving a student violin lessons that her family cannot afford or placing an instrument with another student, we are giving something that is priceless as well as encouraging. These kids have now learned that they can achieve whatever they want through commitment and dedication. They also learn the value of giving back. Many of the older students are now serving as mentors, volunteers and teachers. I am happy to say that many of the students who never thought they would go to college are now attending with the confidence of having a brighter future."
For more information, visit the sites below:
Twitter:
http://twitter.com/ProjectMuszEd
Myspace:
http://www.myspace.com/projectmuszed
Wordpress (blog):
http://projectmuszed.wordpress.com/
Youtube:
http://www.youtube.com/user/muszed
Facebook: Search ProjectMuszed Nonprofit
{Thanks Phillip}