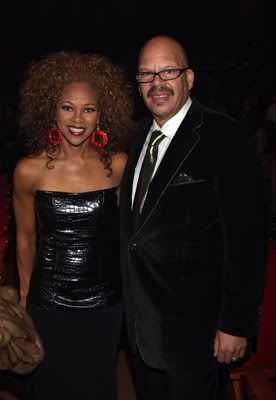 Nationally syndicated radio personality Tom Joyner (pictured in photo with his wife Donna Richardson Joyner) created the Tom Joyner Foundation in 1998 to support Historically Black Colleges and Universities (HBCUs). To date, the foundation has raised over $55 million, helping 40 colleges and thousands of deserving students. Two recent initiatives of the foundation are HIV/AIDS awareness, and support for two HBCUs:
Tom Joyner Foundation to Distribute $510,000 Grant to Promote HIV/AIDS and Substance Abuse Awareness
The Tom Joyner Foundation will help promote awareness on HIV/AIDS and substance abuse at six black colleges as part of a $510,000 federal grant. Each HBCU will receive $85,000 from the Substance Abuse Mental Health Services Administration Center for Substance Abuse Prevention's (SAMHSA/CSAP) Minority Education Institution Initiative. The agency will be responsible for conducting the HIV and substance abuse awareness projects.
The following campuses will be participating this year: Prairie View A&M University, Prairie View, TX; Southern University of Baton Rouge, Baton Rouge, LA; Howard University, Washington, DC; Virginia Union University, Richmond, VA; and Savannah State University, Savannah, GA.
"HIV/AIDS and substance abuse are issues that can not be ignored," said Tom Joyner, whose four-hour drive-time show is heard in 115 markets and heard by more than eight million listeners. "We want to keep our students at black colleges fully informed about all aspects of life – not just what they learn in class."
Since the partnership started in 2005, Beverly Watts Davis, senior advisor of SAMHSA/CSAP, said that more than 15,000 students have been tested, and more than 970 students have become peer educators. "Getting tested for HIV/AIDS should be a part of everyone's standard care," Davis added.
Tom Joyner Foundation to Share Proceeds of Book Sales with Lincoln University in Pennsylvania and the University of Maryland Eastern Shore
The Foundation's book, "
Tom Joyner Presents: How to Prepare for College
", is supporting the alma maters of the authors - Wil and Thomas LaVeist. A portion of the book sales will benefit two black colleges: Lincoln University in Pennsylvania, and the University of Maryland Eastern Shore in Princess Anne, Maryland.
Released earlier this year, the book is filled with easy to read, easy to understand lessons that can help make the path to college a little easier. The book features useful advice on several subjects, including a step-by-step guide for elementary school and beyond, HBCU v. non-HBCU: Which is the right for me?, the admission process, paying for a college tuition, the financial aid process, financial aid myths, staying in college, preparing for life after college,
giving back
, a list of HBCUs, and useful websites/organizations for scholarships/grants.
The book, published by Joyner's Foundation and Amber Books Inc., can be ordered now through
http://www.amberbooks.com/
and
http://www.ipgbook.com/
. Chain stores (Barnes and Noble, Borders, Wal-Mart, Sam's, etc.), can make special orders through Independent Publishers Group until September 2009, when the title will be officially released (published) nationwide.
Source: PR.com