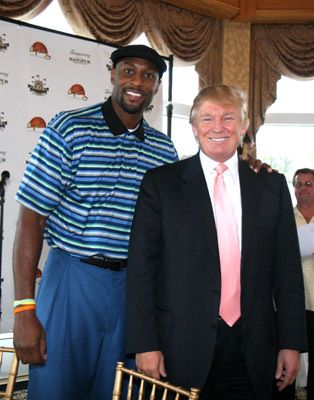 WESTCHESTER, NY - NBA champion, author, and nationally recognized philanthropist, Alonzo Mourning, was joined by other like-minded golf enthusiasts and supporters of youth initiatives on the golf course for the 6th annual Zo's Million Dollar Shootout giving one lucky golfer the chance to win $1,000,000 benefiting Alonzo Mourning Charities. Sponsored by TractManager and International Oil Trading Company, golfers tee'd off at noon on Monday, August 17th, 2009 at the Trump National Golf Club at Briarcliff Manor in New York. The event raised $100,000 this year.
Zo's Million Dollar Shootout has been a staple golf outing for the past five years, where golfers not only come out to compete for the chance at one million dollars, but also to support the programs of
Alonzo Mourning Charities
. The foundation empowers and educates today's youth through various enrichment services that help further stimulate the educational development of children residing in low socioeconomic communities. This year, Alonzo Mourning Charities presented a $50,000 donation to Mentoring USA, a program offering important mentoring relationships for children ages 7 through 21 with differing levels of education and social challenges. Mentoring USA provides inspirational adult mentors to guide youth in developing better self-esteem, healthy relationships and making positive life choices.
"The generous award given during a time when so many youth-serving organizations are facing fiscal challenges is truly a blessing. This grant will allow us to expand our comprehensive mentoring program services in Newark, New Jersey while supporting a true community champion and visionary, Mayor Cory Booker, said Stephen Powell, Executive Director of Mentoring USA.
Friend and supporter, Dwyane Wade, joined Mourning at the Million Dollar Hole for the day. Also joining Mourning on the course were Chris Duhon (New York Knicks), Ben Gordon (Detroit Pistons), Bonzi Wells (Shanxi Xhongyu); former NBA players John Starks, Allan Houston, Charles Smith, Ron Harper; former NFL players Brian Kelly, Carl Banks, Bruce Smith, Lawrence Taylor; former MLB player Kenny Lofton; and New York Knicks coach Herb Williams.
"It was great to see so many of our friends and supporters out on the greens today. Even though we didn't find our million dollar winner, just getting out here and sharing our mission with everyone makes the day worthwhile, said Mourning, Founder of Alonzo Mourning Charities. The support our guests provide really helps advance our mission. With increased financial resources, we're able to change the lives of so many deserving children through education and mentoring."
Photo: Alonzo Mourning with Donald Trump at the 2007 Zo's Million Dollar Shoot Out/Wireimage
Source: PQConcepts