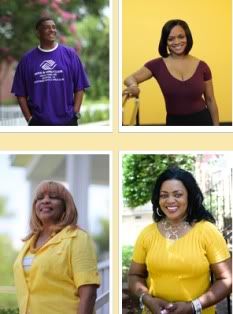 COMMUNITY CHAMPIONS CELEBRATED THROUGH GENERAL MILLS, INC. FEEDING DREAMS™ PROGRAM
Via Press Release: Following on the heels of last year's inaugural Feeding Dreams™ initiative to celebrate everyday heroes who are doing extraordinary things to improve communities, General Mills is proudly serving up seconds and expanding its reach to help recognize African-Americans who are selflessly volunteering to make their communities better in four southern cities: Birmingham, Charlotte, Memphis and Norfolk. The successful grassroots program highlights 12 Community Champions who invest their time, energy and talents to improve African-American communities at the local level.
In the photo (from top L to R):Gregg Shivers, one of three 2009 Feeding Dreams™ Community Champions from Norfolk, VA; Chauniece Conner, one of three 2009 Feeding Dreams™ Community Champions from Memphis, TN; LaJune White Dyess, one of three 2009 Feeding Dreams™ Community Champions from Birmingham, AL; and Kym Gordon Moore, one of three 2009 Feeding Dreams™ Community Champions from Charlotte, NC.
To learn more about these Community Champions, visit the website at
FeedingDreams.com
to vote once per day for your favorite Community Champion. The individual who garners the most votes in each city will receive a $5,000 grant to benefit the charity of his or her choice, followed by the second- and third-place champions who will receive $2,000 and $1,000 grants respectively. The site will feature original photography and compelling stories of each Community Champion. All 12 nominees will receive a $500 check card as acknowledgement of their individual commitment to community service. The site also features portraits and profiles photographed by nationally acclaimed photographer Michael Cunningham, of several of last year's Feeding Dreams Champions: Kerri Pruitt of Birmingham; Wavey Williams of Charlotte; and Sandy Bordueax of Memphis.
"We're celebrating a handful of our brightest community stars, our civic engineers. Their shared dream for a better future comes closer to reality with every foster child they reach out to, every homeless family they support and every person in peril they believe in," said Susan L. Taylor, Feeding Dreams spokesperson and editor-in-chief emeritus of Essence Magazine and founder of the national Cares Mentoring Movement. "I am inspired by their leadership and energized by their work. These champions show that with vision, passion and a plan, we can restore our communities and change our world."
For 2010, Feeding Dreams wants to expand to more communities. Visit the site and tell them why your community should be next!
Source and Photo: PRNewswire