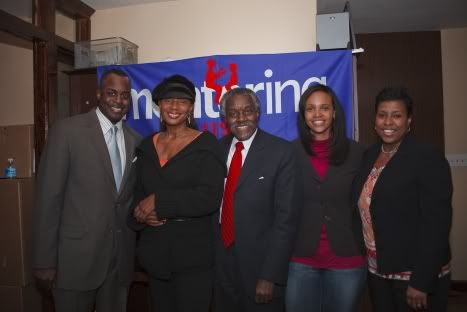 Harlem CARES, an affiliate of the National Cares Mentoring Movement founded by Susan L. Taylor, is actively seeking dedicated, caring mentors for youth in the Harlem community. Launched on June 18, 2009, they have recruited 67 potential members.
Via
Uptown Flavor
:
Join Susan L. Taylor and your caring neighbors as we reclaim our youngsters. Become a part of the Harlem CARES Mentor-Recruitment Movement, which is asking every able Black adult in our community to help save and secure a young life. Volunteer just one hour a week to mentoring.
Lead by Co-Chairs Rochelle Hill and Raychelle LeBlanc, the Harlem CARES Mentor-Recruitment Circle is a local affiliate of the National Cares Mentoring Movement, founded by Susan Taylor, as Essence CARES. It has grown into a coalition of trusted local and national, civic, organization, government, business, political and community leaders, committed to working together to solve the escalating crisis among our underserved young.
Harlem CARES Mentor-Training Sessions are conducted the third Tuesday (August 12, September 15th, October 20th, November 17th and December 15th) of each month at Mt. Pleasant Christian Academy, 2009 Adam Clayton Powell Jr. Blvd., between 120th and 121st Streets from 7 to 9 p.m., courtesy of Mentoring USA. Please register for a Harlem Cares Mentor-Training Session by emailing
NYCPrecisionPlus@aol.com
. Please add, "I want to be a mentor" in the subject line and reference "Uptown Flavor" in the body of the email.

Read more on Harlem CARES and the National Mentoring Movement

HERE

.

In photo: Stephen Powell, executive director, Mentoring USA; Susan L. Taylor, founder, National CARES Mentoring Movement and editor-in-chief emeritus of Essence magazine; Pastor Charles D. Eatman, Sr., Mt. Pleasant Community Church and director and principal, Mt. Pleasant Christian Academy; Rochelle Hill, co-chairperson, Harlem CARES; and Aarian Pope-Punter, recruitment manager, Mentoring USA (Photo: Samir Amami/New York Photo Images via Uptown Flavor) {Thanks Stephen}