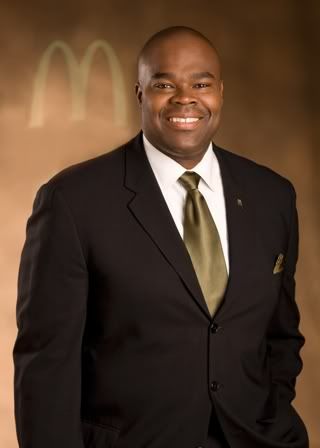 Don Thompson, President of McDonald's USA, will be honored with the 2009 Distinguished Civic Leadership Award by Access Community Health Network (ACCESS) at its 6th Annual Awards Dinner for Distinguished Civic Leadership. The awards dinner will be held on Monday, September 21, 2009, 5:30 pm in the Grand Ballroom of the Four Seasons Hotel, 120 E. Delaware Place, Chicago.
ACCESS is Chicagoland's largest private primary health care provider to the underserved and the nation's largest community health center organization. Mr. Thompson is being honored for his outstanding civic leadership and commitment to improving the quality of life for children and families in the greater Chicagoland area.
In Chicago, Mr. Thompson serves on Mayor Richard Daley's Task Force on the Employment of People with Disabilities, and on the board of the Goodman Theatre. Thompson is also a member of the Executive Leadership Council and mentors several individuals on the importance of being a leader in their community. He also serves on the board of the Johnetta B. Cole Foundation.
In 2008, Mr. Thompson received the Corporate Executive award from the
Trumpet Foundation
and Black Enterprise magazine recognized him as Corporate Executive of the Year for 2007. He was also celebrated by the Chicago American Diabetes Association as Father of the Year.
Phil Ponce, host of WTTW's Chicago Tonight program and award-winning journalist, will serve as master of ceremonies for the awards dinner. Tickets are $375, and the event is open to the public. Corporate sponsorships are still available. A portion of the ticket is tax deductible, and proceeds will benefit the 215,000 uninsured and underinsured patients that ACCESS serves throughout its network of 51 community health centers.
For ticket and corporate sponsorship information, call Lauren Holhut at 773.257.6425 or email at
hollau@accesscommunityhealth.net
.
Visit the Web site at
http://www.accesscommunityhealth.net/
.