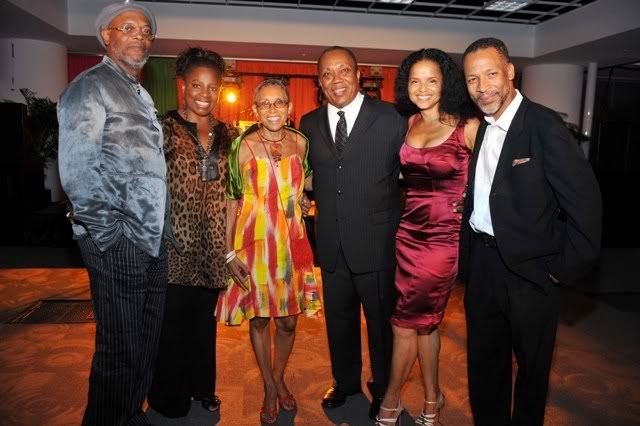 Samuel L. Jackson, Latonya Jackson, Stephanie Hughley, Neil Barclay, Victoria Rowell-Bailey and Radcliffe Bailey attend the National Black Arts Festival's 2009 Gala
On Saturday, August 1, 2009, hundreds turned out for the National Black Arts Festival's (NBAF) annual gala at America's Mart in Atlanta, GA. The star-studded event celebrated the longtime service and dedication of outgoing NBAF executive director Stephanie Hughley, while welcoming incoming chief executive officer, Neil Barclay, former leader of the August Wilson Center for African American Culture in Pittsburgh.
Special guests included artists Radcliffe Bailey and Carrie Mae Weems; actors Samuel L. Jackson, LaTanya Richardson Jackson, Anna Maria Horsford and Victoria Rowell, along with presenting sponsors UPS, Gerard Gibbons, and the Deputy Consul-General Carlos Vizioli & Mrs. Vizioli from the Brazilian Consulate in Atlanta.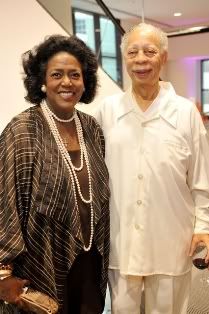 Dr. Eric and Mrs. Nancy Brown; Ingrid Saunders-Jones, Chairperson of the Coca Cola Foundation and Dr. Richard A. Long
Created in 1996, the Gala has become the 'must attend' affair of the annual summer event produced by NBAF. Each year, the Gala focuses on a different theme that is representative of the diversity of the art, culture and creativity of people of African descent. This year's "Brazilian Cool" themed event featured Brazilian entertainers, food and décor, which permitted guests to turn out in their colorful favorites.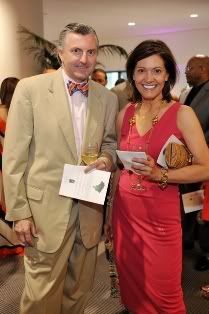 Samuel L. Jackson and Rozonda "Chilli" Thomas; Charles Green and Kathy Harris
Twenty-one years ago the idea of an arts festival dedicated to artists of African descent was placed in the hands of the visionary leaders, and the NBAF was born. The organization is recognized as a national treasure presenting music, dance, theater, film, literary arts and visual arts from the African Diaspora. The mission of NBAF is to engage, cultivate and educate diverse audiences about the arts and culture of the African Diaspora and provide opportunities for artistic and creative expression.
The Gala is the organization's largest fundraiser and proceeds from the event benefit the year-round programs, art education and a summer art festival that attracts people from around the world.
Source: M-Squared Public Relations
Photo credit: OPM Photography