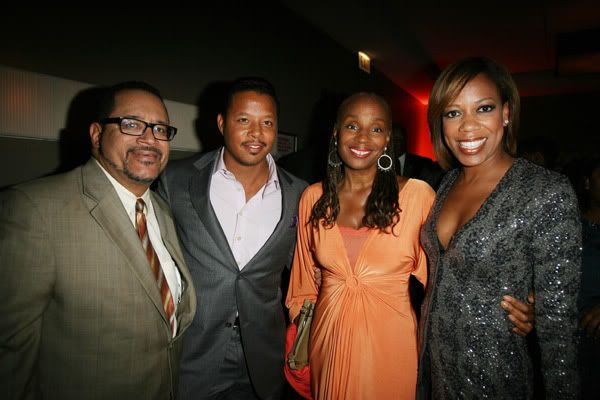 Dr.Michael Eric Dyson, Actor Terrence Howard, Susan Taylor and Chicago Urban League President Cheryle Jackson attend the Young Professionals 10th Anniversary party at Hotel Sax on July 31, 2009 in Chicago, Illinois
The National Urban League held its 2009 annual conference, July 29th through August 1st in Chicago. More than 4,000 people that included influential business, community and political thought leaders from around the country participated in plenary sessions, workshops, and many other events. The League was formed in 1910 with the mission to empower African Americans to enter the economic and social mainstream. Their five key focus areas of empowerment are education and youth, economic, health and quality of life, civic engagement and leadership, and civil rights and racial justice.
Sessions included the state of black America, tips on preventing foreclosure, how to invest in a challenging economy, how to take advantage of the new "green" economy, the importance of being counted in the 2010 census, building America's workforce, and how to save our children.
National Urban League President Marc H. Morial and CNN's Soledad O'Brien participate in "Reclaiming the Dream" presented by CNN and Essence at Chicago Theatre on July 31, 2009
Actress and host Tracee Ellis Ross (left) and Marc Morial, his wife Michelle Miller and children attend the opening reception hosted by the Chicago Urban League for the National Urban League at The Field Museum on July 29, 2009 . Michelle Miller hosted The Women of Power Luncheon that honored extraordinary African American women.

Cheryle Jackson and Fomer NBA Star Earvin 'Magic' Johnson backstage the National Urban League Conference workshops, July 31, 2009. Johnson presented on panels discussing building America's workforce and 21st century leadership.

Noted participants included: CNN's Soledad O'Brien and Roland Martin, U.S. Secretary of Education Arne Duncan, NAACP President and CEO Benjamin Jealous, Bank of America CEO Kenneth Lewis, the Rev. Jesse Jackson, the Rev. Al Sharpton, MSNBC political correspondent Michelle Bernard, EPA Administrator Lisa Perez, Chicago Mayor Richard M. Daley, HGTV's Kim Myles, Illinois Attorney General Lisa Madigan and many others.
A special congratulations to the Metroboard of the Chicago Urban League for being selected as the young professionals chapter of the year!
For more information on the National Urban League, and to find a chapter in your area, visit http://www.nul.org/.
Photos: Wireimage