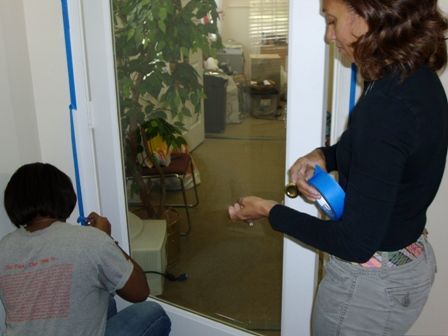 Last month, Interactive One, LLC, launched
BlackPlanet Rising
, an online platform that provides tools, information and connections for African Americans to give back their time and resources to the community. If you're looking to volunteer in your community, the site has partnered with Volunteer Match, one of the Web's most popular volunteer networks, to provide you with opportunities that match your interests.
Beginning in the month of September, BlackPlanet Rising is hosting community days in select cities to launch their new platform. On Thursday, September 24th, BlackPlanet Rising partnered with Dress for Success in Washington, D.C., an organization that promotes the economic independence of disadvantaged women by providing professional attire, a network of support, and career development tools to help women thrive in work and in life.
Volunteers painted, cleaned and organized the office in preparation for new clothes donations to help women find and maintain jobs. With unemployment rates rising, the efforts of Dress For Success are more important than ever, and this project will help get their offices up and running so they can focus on their mission.
Maria Weaver Watson, Director of Strategic Marketing for Interactive One, oversees BlackPlanet Rising. Due to her personal passion for philanthropy, she was selected to lead this initiative, although her background is in marketing. She shared that her goal for BlackPlanet Rising is for it to become a resource for anyone seeking to give back in their community.
Next stops for BlackPlanet Rising Community Days:
New York
and
Philadelphia
! Help to paint tennis courts in Harlem, and renovate a school in Philadelphia. To volunteer for either city, sign up
HERE
. (Note: Disregard dates on website, new dates will be announced soon.)
For my readers in the D.C. area, you can support Dress for Success DC by donating women's clothing - they especially need shoes (sizes 10-12), undergarments and dresses. You can also donate your time to help women select clothing and accessories to wear for job interviews, or host a clothing drive. Nidra Dyer, operations manager for Dress for Success shared with me that corporations such as Bank of America allow their employees to take time off (paid time off!) to volunteer. Visit them on the web at
www.dressforsuccess.org/washingtondc
.
In photo: Nidra Dyer of Dress for Success and Maria Weaver Watson of BlackPlanet Rising