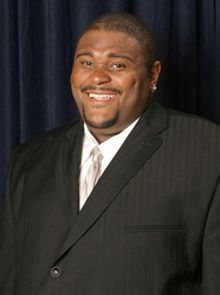 Ruben Studdard Fights And Sings For Those With Sickle Cell Disease
Via press release: Season 2 American Idol winner Ruben Studdard learned about sickle cell disease at a young age, when he spent many days with his mother and his choirmates at Birmingham, Alabama's Rising Star Baptist Church at sickle cell awareness and screening events. The R&B singer, whose fourth album 'Love IS' was released earlier this year, is now lending his voice to those efforts as the official spokesman of
Be Sickle Smart.
Be Sickle Smart
(BSS) is a nationwide grassroots health-education program aimed at increasing awareness of iron overload among people living with sickle cell disease. BSS selected Ruben Studdard's original "I'm A Fighter," produced by John Jackson, as the official campaign theme song. Studdard co-wrote the inspirational campaign anthem from the perspective of a person infected with sickle cell disease. The soulful song is powerful and poignant, and offers this empowering message: " I might get knocked down / but don't count me out / I'm in a title bout / and it's the fight of my life.... / I Will Win."
The song is streaming at BeSickleSmart.com. Studdard has upcoming performances in six cities called "Empowerment Days" where there will be an iron overload education presentation and free iron overload screenings. Upcoming cities include:
9/19 Memphis, TN
10/1 Orlando, FL (National SCDAA Gala)
10/10 Jackson, MS
10/22 Baton Rouge, LA
10/24 Raleigh/Durham, NC
Nov. TBD Austin, TX
Visit
http://www.besicklesmart.com/
for more information about the events and for details on the locations.
6th Annual Ludacris Foundation Benefit Dinner, October 24, 2009, Washington, D.C.
Chris "Ludacris" Bridges and the Ludacris Foundation invite you to a special evening dedicated to celebrating the spirit of those who make significant contributions toward the betterment of community by opening doors and creating legacies. Honorees: Quincy Jones (Chairman's Award), Kevin Liles (President's Award), BET Chairman and CEO Debra Lee (Corporate Award), Hon. Maxine Waters (Congressional Leadership Award) and Kenny Carroll of the DC Writers Corp (Community Service Award). Visit
HERE
for ticket information and to RSVP. (Deadline to RSVP is 10/7)
More celebrity philanthropy news: I just got back from Mercedes Benz NY Fashion Week! Be sure to check back later today for my photos from Gucci and Mary J. Blige's FFAWN (Foundation for the Advancement of Women Now) charity event.