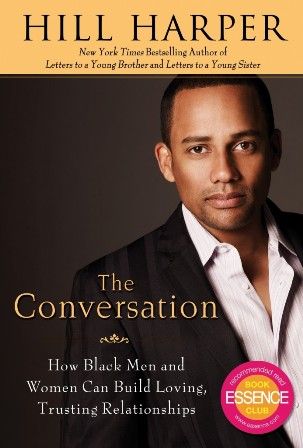 Actor and author Hill Harper was once told by a book publisher that men of color didn't read. He wanted to prove them wrong. In 2006, Harper authored Letters to a Young Brother: MANifest Your Destiny, a part memoir/part motivational tool for young men. While promoting the book on tour, he was often asked, what about our young women? In 2007, he followed up with the NY Times bestseller, Letters To a Young Sister. With these two books, Harper wanted to start a movement of self education and mentorship for youth. Now, its the adults turn.
Today, Harper releases his first book for adults,
The Conversation: How Black Men and Women Can Build Loving, Trusting Relationships.
In it, he tackles the crisis of male-female relationships in the black community. He shares, ..."if we take a look at the data about how few single black men and women are building long term relationships and creating two parent households, the news is sobering. Whether we want to admit it or not, we are bearing witness to the extinction of the black family. We are in the midst of a crisis."
The data he's referring to is that only 30% of African American children are being raised in two-parent households. What is the cause for this? Why aren't black families staying together? What is happening to black male-female relationships? Why are 70% of black professional women single? Harper's book begins this long overdue discussion in
The Conversation
.
As a single man, he claims to be no expert on relationships, so he enlists the help of his friends, family, and even strangers. He begins his journey by attending a dinner party where he is surrounded by loving couples, where he questions where his own life partner is. As he interviews others throughout the book, he shares that as a single man, is he part of the problem? What are his fears and expectations in his own relationships?
The book delves into topics that men and women don't always communicate about prior to entering into a long term relationship such as, premarital sex, contraception, and past relationships. In their conversations, Harper shares their insights on what they really think about each other (which is very interesting). The men share their insight about topics such as why some men cheat, what they look for in a woman, their challenges in dating black women and what makes them commit. The women discuss topics such as their value to black men, why they feel we have trouble sustaining relationships and their thoughts on interracial dating.
So how can you use the book to enhance your own relationships? He shows you how. Not only does Harper want the reader to begin
The Conversation
with him or herself, but with their friends and family. By hosting a Conversation party at his home, he learned even more about black male-female relationships and shares how you can do the same. Harper provides a handy question guide in the book to get your own Conversation party started.
It is his hope that by hosting these Conversation parties, it can begin to open up a dialogue between black males and females so that we can begin to repair our relationships, and ultimately our communities. Now, its your turn.
Harper wants to host Conversation town hall meetings in cities across the country. By purchasing his book, he'll be able to show potential corporate sponsors that this is a much needed event that needs to happen. Visit the website at
http://www.theconversationonline.com/
to sign up for updates and tour information.
**Win a copy of the
The Conversation
! Send an email to blackgivesback[at] gmail[dot]com with "Book Giveaway" in the subject line by Friday, September 11th. Winners announced next week!
{Complimentary books provided by the publishing company}