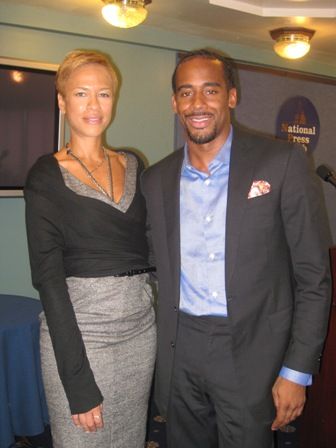 The infant mortality rate in the African American community is twice higher than the general population – and Tonya Lewis Lee is on a mission to help reverse this trend.
Lee is a wife (of filmmaker Spike Lee), mother, attorney, best selling author, an award winning television producer, and the spokesperson for
A Healthy Baby Begins with You
, a national campaign to raise awareness of infant mortality in the African American community.
Launched in 2007 by the Office of Minority Health in the Department of Health and Human Services, Lee shared that once she learned about the infant mortality rate in the African American community, she had to get involved. Infant mortality is defined as the death of an infant during their first year of life.
On September 9, 2009, Lee was in Washington, D.C. to premiere the documentary
Crisis in the Crib
, that highlights Lee, along with physicians, researchers and college students known as Preconception Peer Educators, in their quest to raise awareness around the issue. In the photo is Lee (on left) with Jeff Johnson, author and Tom Joyner Morning Show commentator at the press conference held at the National Press Club.
Most of the footage was filmed in Memphis, ground zero for African American infant mortality. During one scene, a couple sits and watches their infant in a hospital neonatal unit, their second child that was born premature. The father displayed visible anguish that he couldn't do anything for his child but to wait, and it pained him to see his child in that condition. A low birth weight infant is one of the three leading causes for infant mortality. The other two are congenital malformations and Sudden Infant Death Syndrome (SIDS). In addition, some of the risk factors that contribute to infant mortality are disproportionately found in the black community- late prenatal care, poor nutrition, and obesity.
An important component to any health campaign is getting the word out. The campaign's Preconception Peer Educators share everyday healthy living and important preconception health messages with their male and female peers well before they think about pregnancy. The college students are trained in preconception curriculum, and then placed in Healthy Start Programs, State/City Health Departments, State Offices of Minority Health, and community based organizations for placement in summer internships, volunteer or paid work opportunities. The documentary featured peer educators from Spelman College, Fisk University, Meharry Medical College, Morgan State University, the University Of Pennsylvania School Of Nursing and LeMoyne-Owen College.
Tonya Lewis Lee with Maaden Eshete (left) and Janesia Simmons (right)
The campaign has developed marketing materials such as brochures that provide tips for mothers before, during and after pregnancy, and a handbook for pregnant women and women who are planning a pregnancy to reduce risk. To view a clip of the documentary, visit the website
HERE
.
For more information on A Healthy Baby Begins with You campaign and to get your college involved in the Preconception Peer Educator program, visit the website at
http://www.omhrc.gov/
and visit their Facebook page
HERE
for updates.