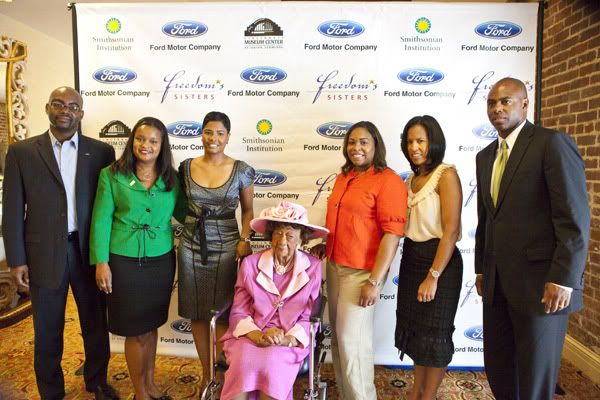 There are many African American women who have helped fight for civil rights, justice and freedom in this country. Dynamic women such as Rosa Parks, Coretta Scott King, Harriet Tubman and Mary McLeod Bethune. Also included in that group of women are Ella Jo Baker, one of the founders of the Student Non Violent Coordinating Committee that organized sit ins and challenged segregation rules; Septima Poinsette Clark, known as the grandmother of the civil rights movement; and Constance Baker Motley who wrote the original complaint in the landmark case, Brown v. Board of Education.
These women are featured in the national traveling exhibit
Freedom's Sisters
that honor 20 remarkable African American women who have made significant contributions to expand our nation's rights and privileges to all Americans.
Freedom's Sisters
is made possible through a grant from the Ford Motor Company Fund, the philanthropic arm of the Ford Motor Company. In honor of the exhibit, Ford has launched a search for local Freedom's Sisters who have shown commitment to community through their participation in social causes and humanitarian efforts.
In July, twenty women were honored during the annual Essence Music Festival in New Orleans (in photo above). And this month in partnership with the National Council of Negro Women, twenty women were honored in Washington, D.C. during the annual National Black Family Reunion on the National Mall. Held on September 13, 2009, women from all over the Washington, D.C. area came out to support and congratulate their local Freedom's Sisters.
In photo: Washington, D.C. Freedom's Sister honoree Thelma Jones, representative from the NCNW, Justine Love, radio personality, Pamela Alexander of the Ford Motor Company Fund and Dr. Dorothy Height,
"Ford is thrilled to honor D.C.'s Freedom's Sisters," shared Pamela Alexander, director of the Ford Motor Company Fund and Community Services. "Through this exhibition and the associated programs we celebrate the accomplishments of an amazing group of women who have truly impacted the world."
The exhibit also includes educational and community outreach components, including an essay contest for middle school students which awards savings bonds to the winners for use in future educational endeavors.
The exhibit is currently in Birmingham, Alabama until October 3rd, with upcoming cities in 2010 that include Chicago, Dallas, Atlanta and Philadelphia. For more information on the exhibit, visit
HERE
.
Source: Press Release/Photos: Wireimage and BGB