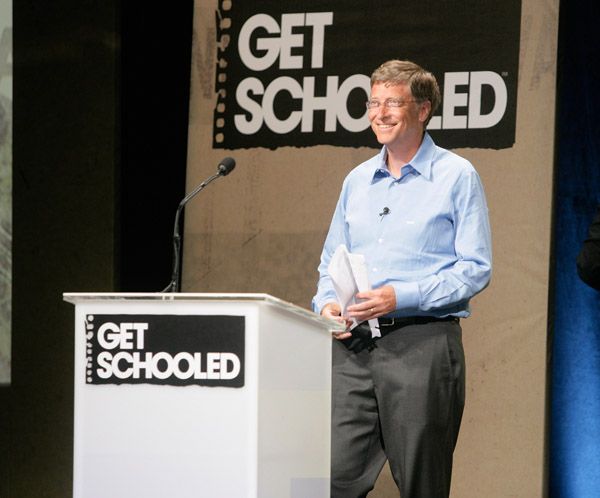 Bill Gates, Co-chair of the Gates Foundation, attends the "Get Schooled" Los Angeles Conference and Premiere at Paramount Studios on September 8, 2009 in Los Angeles, California.
Via Press Release: On September 8th, Viacom (NYSE: VIA and VIA.B) and the Bill & Melinda Gates Foundation, along with initiative partners AT&T, Capital One Financial Corporation and NYSE Euronext, launched the Get Schooled initiative with a national broadcast and an education conference at the Paramount Pictures lot in Los Angeles.
Get Schooled is a national program that connects, inspires and mobilizes people - from policymakers and corporate leaders to communities and kids - to find effective solutions to the problems facing our education system. It provides resources and information, community outreach and creative programming that engage a range of audiences to address America's education crisis. Get Schooled's co-developers are the Bill & Melinda Gates Foundation and Viacom, including BET Networks, MTV Networks and Paramount Pictures.
The five-year initiative aims to generate greater awareness and engagement in addressing the nation's education crisis and to offer practical resources and support to students.
Viacom CEO Philippe Dauman, BET's Debra Lee, and Joel Klein, Chancellor, NYC Department of Education, attend the "Get Schooled" Los Angeles Conference and Premiere
"We couldn't be having this conversation at a better time," said Bill Gates, Co-chair of the Gates Foundation. "The education crisis is damaging our ability to compete in the global economy, and we need to do more to engage all Americans - from policymakers and corporate leaders to families and young people - in our efforts to support students in completing their education and achieving their dreams."
The Get Schooled initiative also announced yesterday the results of a poll conducted by The Winston Group showing that an overwhelming percentage of Americans believe that the United States is lagging behind other nations when it comes to the quality of education.
R&B singer Monica performs at the Get Schooled event
As part of Get Schooled's mission to foster a national dialogue on education issues, AT&T is organizing "screening parties" and discussions around the premiere of the TV broadcast of Get Schooled: You Have the Right. Local events, organized with community partners, will take place in 14 cities across the nation.
Joel Klein shared, "For years, the conversation around public education has been that we as a nation will never fix our schools until we fix poverty. That is so backwards. So we have to change the conversation. The real truth is, we will never fix poverty in America until we fix our schools. I know this, not just from my work over the past seven years in New York City, but from my own life story."
"Our teachers have one of the most difficult and one of the most important jobs in the world. We should support them, while also realizing that they are not all equally effective. That's why we must insist upon real accountability for our educators."
To find out more about Get Schooled and the initiative's groundbreaking national television premiere, visit
http://www.getschooled.com/
.
See related post
HERE
.
Source: Press Release/PRNewswire
Photos: Wireimage