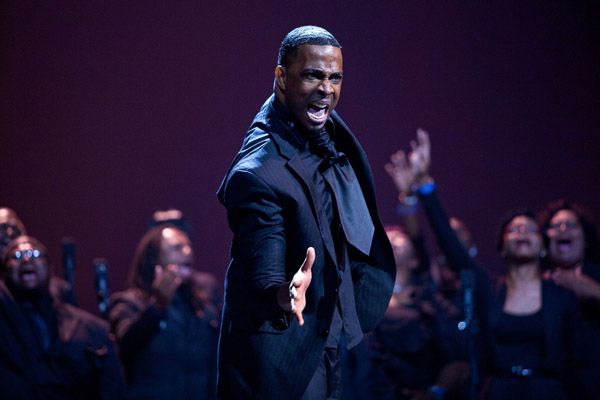 Choir Director of Remnant Concert Choir (Mt. Ararat Baptist Church), the Washington, D.C. winner of "How Sweet the Sound" National Gospel Competition held on September 24, 2009 at the Verizon Center, presented by Verizon Wireless
How sweet is the sound? Just ask the Remnant Concert Choir, who was named the best church choir in Washington, D.C. last night during Verizon Wireless' How Sweet the Sound national gospel competition. They won the crowd favorite, best large choir and overall top honors, winning a total of $15,000. The sold out crowd was brought to its feet as the choir sang a stirring rendition of
Blessed Assurance
. Judge and gospel artist Marvin Sapp was left speechless.
Now in its second year, this national competition not only finds the best church choir in America, but also helps to support the African American church community. Last year's winner, Acme Missionary Church of Chicago, used their winnings to build a new sanctuary and to record a music CD.
Last night's highlights included gospel great Marvin Sapp performing his #1 single,
Never Would Have Made It,
and performances from R&B singer Kelly Price and gospel artist Ty Tribbett, who all served as judges. The staging area is magnificent, beautifully showcasing the wonderful choirs who competed for the top prize.
This is a great activity especially for families and youth groups. For the kids and the aspiring gospel singers, there's even gospel karaoke-of which you may be selected to be shown on the big screen! The price? You can't beat it. Tickets start at $5! Also, you can support survivors of domestic violence by donating old wireless phones at How Sweet the Sound venues nationwide, or at your neighborhood Verizon Wireless store.
Upcoming cities include Newark (9/25), Philadelphia (9/26), Detroit (9/28), Chicago (9/30), Atlanta (10/2), Memphis (10/5), Los Angeles (10/8), Oakland (10/10) and the finale in Detroit on November 7. I highly recommend attending this amazing cultural event! If you attend in your city, let us know how you liked it!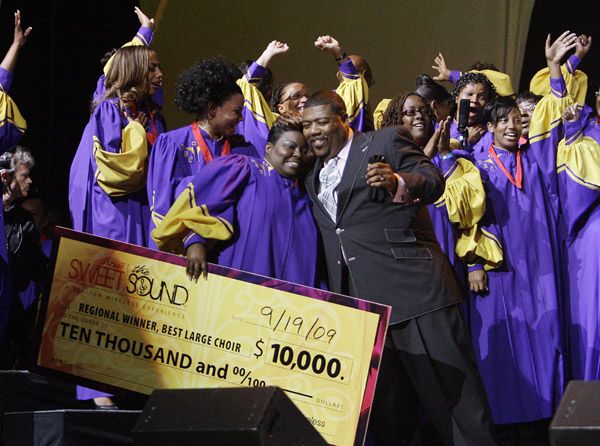 The Resurrection Baptist Church Mass Choir celebrate winning in the Best Large Choir category of the Verizon Wireless' "How Sweet the Sound" competition at Toyota Center on September 19, 2009 in Houston, Texas
For more information and to purchase tickets, visit
http://www.howsweetthesound.com/
.
Photos: Wireimage
Thanks to the folks at PMKHBH for the invite and the complimentary ticket!