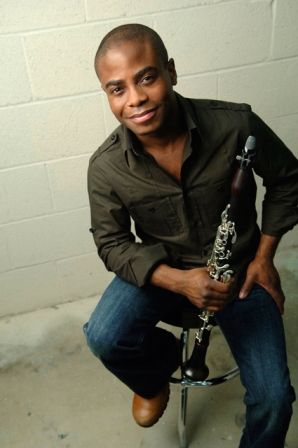 Immediately before President Barack Obama took the oath of office during our nation's 44th Presidential Inauguration, a classical quartet that included Yo-Yo Ma, Itzhak Perlman and Gabriela Montero performed '
Air and Simple Gifts
,' written by composer John Williams for the Inauguration. If you recall, one member of the quartet was African American. Meet our latest Insider,
Anthony McGill
.
A principal clarinetist for New York's Metropolitan Opera, McGill is among the few African Americans to play for a symphony orchestra. He shares about that historic moment, "It was the greatest experience of my life. To be a part of history and to be able to see everyone come out for the Inauguration made it unbelievably special for me. It really was the biggest stage I'll ever be on for the rest of my life. A memory I'll never ever forget."
Anthony shares that being from the South Side of Chicago, some would say he's not "supposed" to be a classical musician. "My parents taught me that I could become whatever I wanted, so I did. That is the message I hope to spread to the youth of today by sharing my music with them and the world."
He began playing instruments at the age of nine by watching his older brother, Demarre R. McGill, who is now a principal flautist with the San Diego Symphony. Anthony's father shared in a Chicago Sun Times article about raising their sons: "Our goal was to expose them to as much artistic endeavor and culture as possible, just to keep them busy along with their school work. We didn't want them to [get involved] with all kinds of things that are out there on the streets in Chicago. We had them in everything -- tennis, tae kwon do, swimming, basketball, visual arts, music. And lo and behold, they really had an affinity for music. They sort of chose music themselves."
So how did Anthony get the opportunity to play during the Inauguration? Yo-Yo Ma, the world renowned cellist invited him. He had followed Anthony's career after they played together in Tokyo eight years earlier. In high demand as a teacher, Anthony currently serves on the facilities of the Peabody Institute of the Johns Hopkins University, Mannes College of Music and the Manhattan School of Music Precollege.
Read on to learn about Anthony's charitable activities, his favorite musical artists, and about efforts to expose African American children to classical music:
What inspired your interest in classical music?
My older brother started playing when we were very young. He inspired me to play an instrument and then I fell in love with music. It was gradual at first but once I felt chills for the first time listening to music, I was hooked.
Do you know how many African Americans are currently playing in symphony orchestras?
I don't know exactly how many but you could probably count on it not being very much more than 20. There are, however, many more that freelance, teach, and play in smaller ensembles.
Are you a part of, or aware of any efforts being made that are encouraging African American participation in classical music?
Yes I am. There are efforts on a small scale that encourage and support kids in cities to play music. Some of these reach African American youth that happen to go to these schools such as Education Through Music here in New York. And in Chicago, the Merit Music Program (where I got my start) also provides music education to inner city youth. Also, the Sphinx Organization supports older students pursuing a career in music. I hope there are many more of these types of programs that I don't know about.
What other genres of music do you listen to?
Who are some of your favorite music artists?
I love jazz, R&B, Alternative, Rock, HipHop, Soul...basically I like good music and musicians. Wynton Marsalis, Radiohead, Jay-Z, Marvin Gaye to name a few. I try not to really focus on genres so much, only music that makes me feel good.
What charitable initiatives are you involved with

?
I am on the Artistic Advisory Board of the Third Street Settlement School in New York City. And very recently I have been asked to be on the National Advisory Board of the Merit Music Program in Chicago. I give to Merit in whatever way is needed, whether it is mentoring, masterclasses, time or money, because it gave me my start.
To learn more about Anthony McGill, visit his website at
http://www.anthonymcgill.com/
and enjoy listening to wonderful music while you're at it!