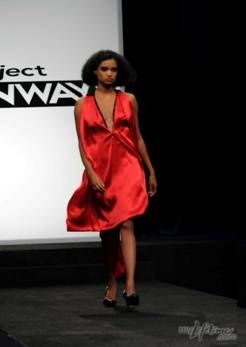 Via Press Release: Lifetime's Project Runway and its spin-off Models of the Runway aired Thursday, August 20th, both featuring New York model Emarie Wiltz. Models of the Runway brings viewers into the lives of the models who grace the catwalk for the most popular fashion design show. Project Runway Season 6 debuted to 4.2 million viewers.
A native of New Orleans, Emarie launched her clothing line, Global Recess on August 20th, the same day as the Project Runway and Models of the Runway premieres. Global Recess is a high end casual apparel line focused on spreading global responsibility through fashion. According to the company's website, the fashion line builds awareness and promotes action toward global issues that are often overlooked or unheard of, including but not limited to: human trafficking, the military use of children, and poverty.
Each issue has its own unique design, yet maintains a cohesive brand identity. Packaging includes a short description of the issue it is combating and information regarding the charitable organization receiving the proceeds. A portion of the proceeds of each sale is donated to a selected organization combating that specific issue, thus fostering a "Global Recess."
Emarie has traveled the world as a model, both domestically in the United States and as far away as Southeast Asia. She has used her successes as a model to step behind the scenes of the fashion industry- conducting marketing management for Fortune 500 fashion companies, the production of advertising campaigns featured in New York City's Times Square and the production of countless numbers of fashion shows. Now, Wiltz's energy is focused on her own company, Global Recess.
For more information on Global Recess, visit
www.globalrecess.com
.