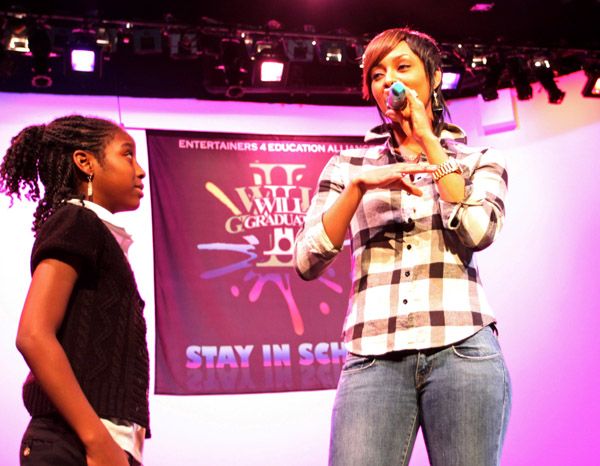 The date of October 27th is now officially known as "I Will Graduate Day" in New York City! Mayor Bloomberg made the proclamation at the 4th annual Stay in School pep rally hosted by the Entertainers 4 Education Alliance at the Tribeca Performing Arts Center. Many entertainers and athletes came out to encourage NYC's youth, including Russell Simmons, NBA legend John Starks and R&B sensation Keri Hilson (in photo above).

Keri Hilson took the stage to discuss the importance of attendance and being on time for school: "Show up even when you don't feel like it." Keri talked about the entertainment business and how her education is a key factor in not getting taken advantage of. "You have to read contracts, documents, and oversee your finances, much of what I learned in school prepared me to manage my affairs today."

The Alliance was created by former Roc-A-Fella records publicist Tonya Lewis, who used her event planning and publicist skills, along with her industry contacts to create the organization. She shares about the importance of creating her foundation: "New York State has the highest dropout rate for Black and Hispanic students of any state in the nation, when I read these statistics I am motivated to continue to get the youth to view education as necessary. When the youth hear someone they admire express the importance of education it can be life changing. We are also very appreciative of every speaker, performer, sponsor and volunteer who help us make this event possible year after year." Learn more about Tonya Lewis HERE and visit the website at http://www.e4ea.org/.

DID YOU KNOW?

That African American male students who participate in academic urban debate leagues have higher graduation rates?

Via Press Release (PR Web): October 23, 2009, Chicago, IL—Groundbreaking peer-reviewed research from the University of Michigan, published this week in a special issue of the Journal of Negro Education, shows that participating in an academic debate program in urban schools boosts student achievement. According to the study, participation in an Urban Debate League (UDL) significantly increases a student's chances of graduating from high school and performing at or above college-ready benchmarks on the ACT's Reading and English subject-matter tests when compared to similar students who did not participate in urban debate.

The study found the educational benefits of participation in urban debate to be even more pronounced for school-age African American males. African American male students participating in urban debate were 70 percent more likely to graduate from high school, three times less likely to drop out, 50 percent more likely to reach the ACT college-readiness benchmark for English, and 70 percent more likely to reach the ACT benchmark for reading than non-debaters, even after accounting for eighth grade achievement. These findings should hold special interest to urban educators; local, state, and national policymakers; and anyone interested in promoting innovative, research-based solutions to our nation's educational challenges.

For more information, visit www.urbandebate.org.

The C. Delores Tucker Journey to Womanhood

Via Black Star Project, a Chicago based non profit organization: Last week, it was announced that 115 female students from Robeson High School in Chicago were pregnant or had at least one child. No effective preventive actions were presented to stop this from happening again next year. It is predicted that many other high schools across America have a similarly high rate of teen pregnancy. Women from various organizations in Chicago are rallying to address this issue by visiting 10 feeder elementary schools to Robeson High School to mentor and counsel 6th-, 7th- and 8th-grade girls away from risky behaviors that lead to pregnancy and low academic achievement. This effort is called the C. Delores Tucker Journey to Womanhood.

The C. Delores Tucker Journey to Womanhood focuses on discouraging early sexual activity and teen pregnancy and works to heighten awareness among teen-age girls about sexually transmitted diseases. Women mentors will counsel girls to love and respect themselves, envision bright futures, and to recognize the signs of abusive relationships and teach young girls the advantages of peaceful conflict resolution. Mentors will also encourage these girls to do their best in school, look forward to and work towards rewarding professional careers and help the girls think about what it takes to generate healthy, positive families and relationships starting with their relationships with themselves.

The Black Star Project is looking for 50 female mentors between the ages of 19 and 70 who will help mentor 6th-, 7th- and 8th-grade girls away from precocious sex, sexually transmitted diseases, abusive relationships and premature pregnancy. Please call 773.285.9600. Obviously, high school is too late. We need you NOW!!!
Photo: Nunez/Wireimage