Guest; Marion Barry, Washington, D.C. Ward 8 Council member and former Mayor; Rep. Sheila Jackson Lee (D-Tex.); Rep. Diane Watson (D-Calif.); guests of Rep. Watson
.
On Friday evening, September 25, 2009, elected officials, Washington policymakers, corporate leaders, and members of the AIDS community attended An Evening Without Politics, a benefit reception hosted by the National Minority AIDS Council (NMAC) at the Grand Hyatt in Washington, D.C. during the Congressional Black Caucus Foundation's annual legislative conference. The event was sponsored in conjunction with members of Congress to raise awareness about the disproportionate impact of HIV in African American communities nationwide, and Washington, D.C. in particular, and to support AIDS education initiatives at Historically Black Colleges and Universities (HBCUs).

At least 3 percent of D.C. residents have HIV or AIDS, a rate that is higher than West Africa and the highest in the nation. Among the D.C. community in attendance were former mayor and D.C. councilman Marion Barry, D.C. Council Chair Vincent Gray, and Darian "Big Tigger" Morgan, radio personality and founder of the Street Corner Foundation. The evening ended with a special performance by R&B songstress Angie Stone.

Rep. Danny Davis (D-Ill) shared, "Our focus on developing new leadership around HIV/AIDS is an extension of our overall dedication to health care reform. Through An Evening Without Politics, we hope to educate the public about how supporting even small steps through health care reform, such as the routinization of HIV testing and increased support for HIV/AIDS programming, can save innumerable lives." Davis was among the leaders who were honored at the event who make a difference in addressing HIV/AIDS. Also honored were Rep. Nancy Pelosi, Rep. Maxine Waters, Rep. Barbara Lee, Rep. Donna Christensen; Rep. Charles Rangel; Rep. Gregory Meeks and India Clark, Howard University peer educator.
Evelyn Ullah, NMAC member and director, Office of HIV/AIDS/TB, Miami-Dade County Health Department; aunt and mother of student honoree India Clark; student honoree India Clark, Howard University peer educator; Beverly Watts-Davis, U.S. Department of Health Substance Abuse and Mental Health Services Administration (SAMHSA)

The NMAC states that the need for new approaches to HIV prevention has never been greater. The Centers for Disease Control and Prevention (CDC) announced in August 2008 that HIV incidence rates in the U.S. were 40 percent higher than previously estimated, and nearly half of these occurred in the Black community. Communities of color overall accounted for 70 percent of all new infections. One new approach is the HBCU HIV/AIDS Peer Education Initiative, designed to ensure that young people get involved on their campuses and help educate one another vis-à-vis an "each one teach one" methodology. Schools slated to participate are Virginia Union University, in Richmond, Va.; Howard University, Washington, D.C.; and Bowie State University, Bowie, Md.
Guest and comedienne/actress Kim Whitley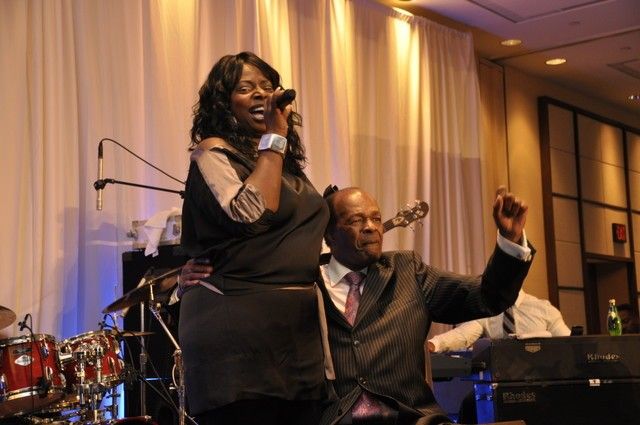 Angie Stone performs with D.C. Councilman Marion Barry
About the NMAC
: The National Minority AIDS Council's mission is to develop leadership within communities of color to address the challenges of HIV/AIDS through individualized capacity building assistance; technical assistance trainings; public policy education programs; national and regional conferences; treatment and research education programs; online and printed resource materials; and a website,
www.nmac.org
. The organization also serves as a membership association for its constituents-AIDS service organizations and minority faith- and community-based organizations delivering HIV/AIDS services in communities of color and advocates on their behalf. {
Thanks to Edelman PR and NMAC for the invite!}