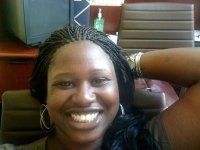 Today is the official launch of the
Nonprofit Millennial Blogging Alliance
, that includes a cadre of amazing bloggers who blog about the non profit sector. I was asked to join the Alliance by Allison Jones (in photo), a fellow non profit blogger, writer, advocate and entrepreneur. She came up with the idea after reading an article about forming a blogging alliance. She shares:
"In the almost two years that I have been blogging I have learned so much about the nonprofit sector and the challenges that young employees face. This has
motivated me to act
and to connect with those who share my passion for creating a culture in the sector that values and actively supports young employees.
However, I always wondered how we could include more voices from the next generation in the conversation about the future of the nonprofit sector. Then I came across
this article in problogger
about forming a blogging alliance. While he talks about it being a secret mainly to benefit bloggers, I saw an opportunity to gather a group of young nonprofit bloggers who can help each other reach wider audiences and collectively bringing important issues about the nonprofit sector to the forefront by actively engaging and sharing each other's work."
Without further ado, here's the list of the alliance members!
James Elbaor,
From the Desk of James Elbaor
, Twitter:
@jameselbaor
Elisa M. Ortiz,
Onward and Upward
,
@emortiz
Elizabeth Clawson,
Nonprofit Periscope
,
@eclawson
Trina Isakson,
Trina's Nonprofit Blog
,
@telleni
Kathrin Ivanovic,
The Diversity Projekt
,
@kathrinoutloud
Colleen Dilenschneider,
Know Your Bone
,
@cdilly
Tera Wozniak Qualls,
Social Citizen
,
@terawozqualls
Tracey Webb,
Black Gives Back
,
@blkgivesback
(Me!)
Kevin Gilnack,
(Nonprofits + Politics)2.0
,
@kgilnack
(Check out his post
HERE
)
Allison Jones,
EntryLevelLiving
,
@ajlovesya

Rosetta Thurman,
Perspectives from the Pipeline
,
@rosettathurman
..and the list is growing!
Read more about Allison and the Alliance
HERE
. Especially for those of you who work in the non profit sector, be sure to bookmark their blogs! Be on the lookout in the coming months for more from the Alliance - thanks Allison!