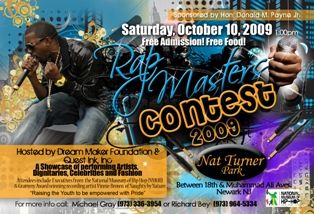 Newark Council Member-At-Large Hosts 18th Annual Rap Masters Competition

Vinnie Brown from Newark's Own Naughty By Nature to select the Best Rapper

Hosted by Council Member-At-Large Donald M. Payne Jr., this Rap Masters Competition recognizes rap music and the rap culture as an important influence in the city of Newark, and its surrounding areas. This contest provides emerging talent in the Tri-State area an opportunity to showcase their creative skills.
WHO: Council Member-At-Large Donald M. Payne, Jr, Vinnie Brown of Naughty by Nature, Dream Maker Foundation, Quest Ink-Broadcast Team, and the National Museum of Hip Hop Foundation (NMOH)
WHEN: Saturday, October 10, 11 a.m., participants; 12 p.m. audience arrival. The event is free and open to all. Free refreshments will be available.
WHERE: Nat Turner Park, Boyd Street and 18th Avenue, Newark, New Jersey
CONTACT: For event info, call Council Member-At-Large Donald Payne's office at (973) 733-3753.
Source: TLAPR Agency, LLC