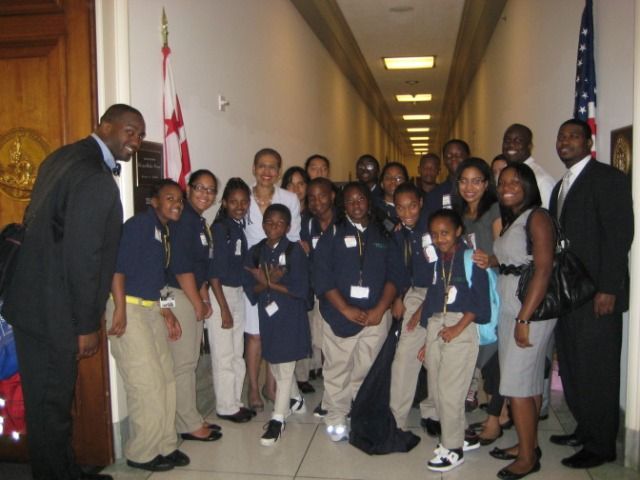 In 2003, NFLer
London Fletcher
of the Washington Redskins founded the
London's Bridge Foundation
, an Ohio based non profit organization to build standards of education, leadership, teamwork and recreation for today's youth, with the ultimate goal of instilling the values of volunteerism and philanthropy. Through the foundation's mentoring and charitable giving programs, they teach youth life skills and valuable learning lessons. One of those programs is
London's Brigade
, a community project that provides access to mentors 24/7. The project uses its website, (londonsbridge.org), which features a blog and discussion board to connect with students.
On September 22, 2009 during the Congressional Black Caucus Foundation's annual legislative conference, Fletcher along with foundation staff and mentors took youth on a tour of the U.S. Capitol (in photo above) in Washington, D.C. They met Rep. Eleanor Norton and learned about various scholarship opportunities available to them. Norton, expressing appreciation to the foundation's staff for bringing the youth to her office, shared that she rarely gets a chance to meet her youngest constituents. After spending the day on Capitol Hill, the youth were treated to a surprise dinner at B. Smith's restaurant in Union Station.
This month, the foundation's theme is journalism and their upcoming mentoring trips will allow the youth to tour the Newseum, participate in a civil rights course that will allow them to stage their own mock social movement, visit BET and meet with executives in the entertainment industry, tour the Redskins stadium and have a chance to go on the field and write news paper articles about their experience.
The foundation states, "the central focus of the project is to provide students with an alternate game plan should their hopes and dreams of being professional athletes and entertainers not materialize. For many kids, especially minorities, these are the only perceived means of obtaining professional success. Thus, our primary goal is to introduce our students to alternative career options." In addition to Washington, D.C., the foundation has provided mentoring activities in Cleveland, Ohio; Buffalo, New York; and Charlotte, N.C. (In photo: Rep. Eleanor Holmes Norton and London Fletcher.)
For more information, visit the website at
http://www.londonsbridge.org/
.
Photos courtesy of London's Bridge Foundation