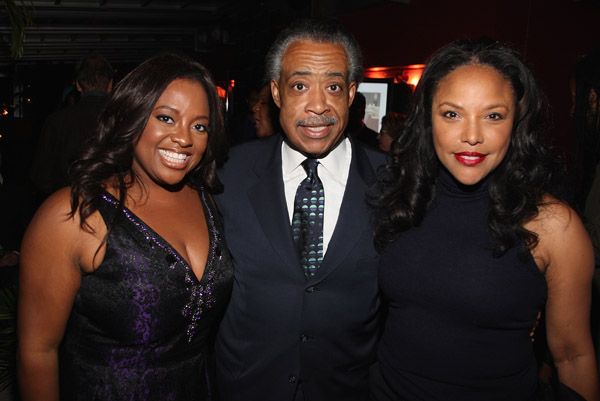 The View co-host Sherri Shepherd with Rev. Al Sharpton and actress Lynn Whitfield attend the launch party for Shepherd's new Lifetime series "Sherri" on October 5, 2009 in NYC. Sherri is also lending her hand to charity - serving as the host for the upcoming Thurgood Marshall College Fund's Front Row fashion charity event. Via
BLEU magazine
, the official media partner for the event:
" The Thurgood Marshall College Fund once again celebrates the spirit of innovation in fashion with a presentation of the collections of established and emerging African and Latino American fashion designers at Front Row, its 4th Annual Fashion Show on Saturday, October 24, 2009 at the Roseland Ballroom, 239 West 52nd Street at 8:00 p.m. in Manhattan.
Front Row is one of the largest annual fashion shows in New York City dedicated to breakthrough fashion designers and a three-time sold out event. With its growing popularity, Front Row's red carpet has become the place for fashionistas, celebrities and New York tastemakers to be and be seen making it one of the most anticipated events of the year.
Adding to its popularity is this year's host, the lively Sherri Shepherd, co-host of The View and star of her own sitcom on Lifetime Television titled, 'Sherri.' Featured designers include: Byron Lars, Russell Simmons Argyle Culture, Kai Milla Designs, Angela Dean for DeanZign, a special new ethnic line from Walmart, Nico & Adrian, Annie S Intimates, Amsale, Francis Hendy, Montgomery and innovative emerging designers, Magnami Style & Company and Ellie Owen.
Front Row also pays tribute to trailblazers in the fashion industry with its Fashion Icon Award, saluting individuals who have influenced style and fashion and embody the spirit of leadership and commitment to their craft. The 2009 honorees are: Supermodel Naomi Campbell, international make-up artist Sam Fine; Emmy award winning hairstylist Andre Walker; and Fashion Institute of Technology President, Dr. Joyce F. Brown. The 2009 Avante Garde Award will be presented posthumously to the 'King of Pop' Michael Jackson.
"The Front Row Fashion Show provides a unique venue for some of the nation's leading fashion designers and emerging talents to showcase their creativity while giving the event's attendees a rare opportunity to celebrate honorees' contributions to the world of style, fashion and industry leadership," said Dwayne Ashley, President & CEO of the Thurgood Marshall College Fund, Inc.
"This event is also certainly about honoring individuals who embody leadership, commitment and service in their respective professions and in doing so, opened doors of opportunity to young people, which is at the heart of the TMCF's mission."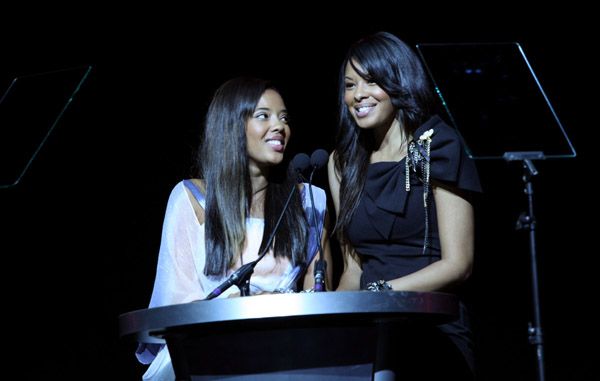 Angela Simmons and Vanessa Simmons participate in Macy's Passport 2009 Fashion Inform Event at Barker Hangar on September 25, 2009 in Santa Monica, California. Macy's Passport is an annual event that combines theater and fashion, benefiting HIV/AIDS charities.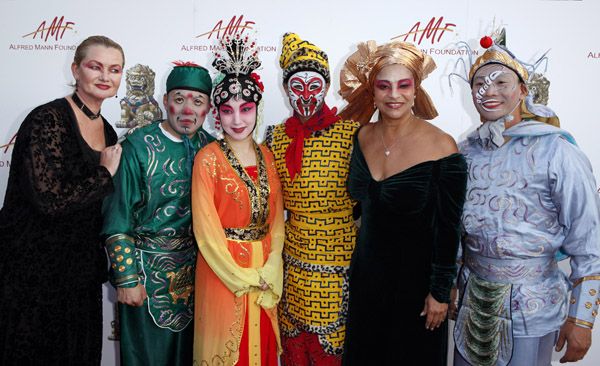 Debbie Allen Raises Over $1 Million in One Night as the MC for the Alfred E. Mann Foundation's Evening of Innovation and Inspiration Within The Forbidden City - Benefiting the Foundation's Revolutionary Medical and Scientific Research Advancements

In photo: Debbie Allen arrives at the 6th Annual An Evening of Innovation and Inspiration within the Forbidden City at Santa Monica Airport on October 11, 2009 in Santa Monica, California
Via RappAround PR: So You Think You Can Dance's/Fame's Debbie Allen surprised a black tie crowd by appearing on the red carpet in face paint and an Asian-themed costume with performers from Cirque du Soleil's "Ka" at the Alfred E. Mann Foundation Gala on Sunday, October 11. She also introduced a young girl, who was deaf until receiving one of the foundation's life saving cochlear implants that allowed her the gift of hearing. The young woman performed a solo dance routine for the master choreographer and 475 guests.
L
udacris along with Common and Talib Kweli, attend the Common & Friends Benefit Concert at the Hollywood Palladium on September 26, 2009 in Hollywood, California, benefiting Common's Common Ground Foundation

In related news, the Ludacris Foundation is hosting its 6th annual benefit dinner on October 24, 2009 in Washington, DC, honoring five outstanding individuals for their tireless work and strong commitment to community service. Among the honorees are Kevin Liles, Debra Lee of BET, Quincy Jones, and Congresswoman Maxine Waters. The sold out event will be hosted by Ludacris and comedian Joe Clair, with a special performance by R&B singer Raheem DeVaughn. Confirmed guests include Russell Simmons, Bob Johnson, LA Reid, Common, Usain Bolt, Cathy Hughes, Jeff Johnson, Clinton Portis, Taraji Henson, Michael Eric Dyson, Cynne Simpson, Gabrielle Union, Alonzo & Tracy Mourning, Donnie Simpson, Big Tigger, DC Mayor Adrian Fenty, and a host of others. All proceeds from the dinner will benefit The Ludacris Foundation: Leadership & Education, LudaCares, and Living Healthy Lifestyles local and national programs.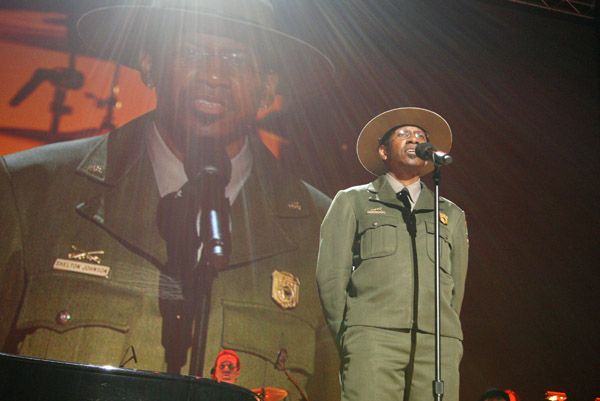 National Park Ranger Shelton Johnson speaks during a National Parks celebration hosted by the National Parks Conservation Association and PBS at Central Park on September 23, 2009 in New York City.

A few months ago, I posted on my
Twitter
a link to an article about Ranger Johnson titled, "Park Ranger Asks, Where are the Black People?" Snippets from the article:
"Johnson, one of a scarce few African American park rangers in the United States, said a black American celebrity publicly frolicking in the woods would do more to help people of color embrace their heritage than all the money in Hollywood.
Johnson, a musician, storyteller and interpretive specialist at Yosemite National Park, is determined to inspire young inner-city African Americans to experience what he says transformed his life. Less than 1 percent of the visitors to Yosemite are African American, a number he's eager to improve.
.....All Snoop Dogg has to do is go camping in Yosemite and it would change the world," said Johnson, 51. "If Oprah Winfrey went on a road trip to the national parks, it would do more than I have done in my whole career." Read full article
HERE
.